2020
Phone Photos 1
For this year I've once again gone through the photos on my smartphone. I've started relying on it much more, and there are way more photos than previous years.
In the first gallery, we can see 2020 before the pandemic took hold, plus my own unrelated hospitalisation and the recovery after, with lots of cat photos.
I'm surprised there aren't a lot of food photos, because I remember enjoying food more than usual after I got out of the hospital. But I guess most of it was delivery, and that doesn't make for very good pictures.
You can see signs of the pandemic, although I had my own problems to deal with so it didn't affect my life very much yet.
The second gallery starts in the spring, and you can see I'm getting more active. I returned to work and started exploring again, plus had my zine exhibited in an art gallery.
There are a lot of photos of that area of Insadong that was demolished, as I took the best pictures on my phone and only went back later to reshoot on my camera when the lighting wasn't as good.
You can see a lot of pictures from Buster's birthday, where we went outside on an adventure and Buster got to see the city wall up close.
Also there are a lot more food-related images.
The third gallery covers summer going into fall. More interesting things were happening and it seemed like life might return to normal. It didn't but we had a few good moments.
There are a lot of photos at the start of this gallery from a survey I did for a friend overseas related to gadgets.
This was also the period where we had record amounts of rainfall which led to serious flooding.
The last gallery focuses especially on the cats, especially Buster who suffered a hematoma in his ear and needed two surgeries. He really suffered, especially with wearing bandages and a lampshade, but as he healed quickly I started to get a little jealous.
The cats also spent a lot more time at the computer, and we made a zine together called "Cats on Keyboards" so they're expecting to become famous writers. This was also while I was getting Broke Publishng up and running, and I figure my chances are about as good as the cats'.
25 December 2020

K-mas
For K-mas, I went to a bookstore. It was closed, so I came back the day after. The store itself has an impressive collection, very different from Kenektid with more of a focus on art, and its prices are higher.
20 December 2020

Broke Santa
Santa started delivering copies of Broke Publishng's books, but due to a lack of chimneys he didn't have much luck.
18 December 2020

Yongsan
I revisited a roof with an elaborate Santa plan, but when I saw the roof's slope again I decided against it. Good view of the base though.
14 December 2020

Pulmujil
While trying to find out more about bookstores, I visited Pulmujil, a social science bookstore next to Sungkyunkwan University. It's mostly textbooks, but it's sort of impressive to see.
7 December 2020

Roadwork
The extensive roadwork continues, shifting to the other side of the street now.
6 December 2020

Cats
After seeing Clown Core, the duo linked a few entries ago featuring two masked clowns known only as Left Clown and Right Clown, I've been calling my cats Left Cat and Right Cat. They always seem to be in that order
5 December 2020

Ho Lee Chow
Ho Lee Chow in Itaewon closed, but sometimes I consider it worth it to go all the way to the Yeouido location. There's a generous discount on takeout orders, something like 20 percent.
5 December 2020

Abandoned Office Building
Not far from the RAS Korea office, there's this office building which closed recently. It must have been more recent than November 7 during the book sale, because quite a lot of urban explorers would have passed right by this building to get there.
2 December 2020

Hitler
I went back to check if this place is still open. Not only was it still there, but when I went close to the door I could hear someone working on the other side, possibly Hitler himself.
30 November 2020

Abandoned Neighbourhood
I went back to this abandoned neighbourhood, where demolition has begun. There are a lot of historic hanoks around here, most notably the one Ryan has called the "Great Japan Hanok." I spent less time down among the low-level architecture and more time trying to get up high to photograph the area and the demolition.
30 November 2020

Downtown
More driving around downtown, although this time it was more objective-based. Although I didn't meet any of my objectives, at least in pictures.
29 November 2020

American Thanksgiving
There was the usual Thanksgiving this year, although with a reduced crowd. We watched videos of very drunk Americans ignoring the pandemic. We left YouTube running and went away for a few minutes, and when I came back I found a video of clowns playing weird music, and one pulled out his dick to play a keyboard with it. It was one of those Thanksgivings.

As well as ihwaju chocolates, I also brought Korean carrots which actually were a really good addition to the usual Thanksgiving foods, at least according to this crowd. And I also brought canned cranberry, only to show up and discover they already had it, thanks to me having brought one last year that went unused.
27 November 2020

Cats
After coming back from the bar, I experimented a bit more with some of the settings on my camera to see what would happen if I took pictures of the cats in low lighting. Turned out pretty good.
26 November 2020

Reggae Bar LO-OK
We went to LO-OK, the new reggae bar of Smiley, way out near Eungam Loop. It's nice, with comfortable seating, good food, and a big ground-level window. The location is a bit remote though.
26 November 2020

Ihwaju Chocolate
I ended up with a lot of ihwaju, and it's not an easy thing to give out to people, especially when everyone's trying to stay clean. So I learned how to make chocolate and put ihwaju inside. I ended up bringing them to Jeff and Trash's Thanksgiving dinner where they ended up pretty popular, at least with a few people.
24 November 2020

Christmas in Namdaemun
I stopped in Namdaemun where I go to one store for a few items. I also have some more images of the heavy roadwork in front of my office.
17 November 2020

The Streets
Just a few pictures around Seoul from running various random errands.
15 November 2020

Raccoon Dog's Home
I went back to the apartment where I'd encountered the raccoon dog. None of the animals I found this time. were animate.
15 November 2020

Millie's 15th Birthday
Millie had a pretty good 15th birthday. There was playing with toys and catnip.
14 November 2020

Sky
I took a bunch of pictures of the sunset using different white balance settings and then chose my three favourite.
13 November 2020

Palace
Just one picture taken inside Gyeongbok Palace in front of the palace museum.
12 November 2020

Literary Translation Awards
I heard there was free steak at the paper's awards ceremony for literary translators, so I went to have a look.
9 November 2020

Downroad
Just a quick picture while waiting in traffic. My sister used to be afraid of something called downroads when she was very young, and we never figured out what that meant. When she visited last year, I probably drove her down this road, so maybe not this.
7 November 2020

Show at Dongmyo
At the book sale, Ryan disclosed that there was a music festival happening right in front of the gate to Dongmyo, in the middle of the flea market that springs up around the shrine. The bands didn't start until the market was almost completely closed down, but there were still one or two elderly men complaining about the noise. It was a pretty ridiculous but iconic place for a show.
7 November 2020

RAS Korea Book Sale
The RAS Korea office has a lot of books and not enough money, so a book sale was held to try to unload some of the merchandise.

I also took the opportunity to photograph Brother Anthony with Steven L. Shields, as they're about to go through a leadership transition at the end of this year. It'll take effect in the new year, but Brother Anthony is giving the final lecture of this year which will be the closest thing to a sendoff possible.
4 November 2020

Hahn Dae-soo
I managed to meet up with Hahn Dae-soo, one of my favourite Korean singers dating back to the 1970s. He was fun to talk to and had a lot of interesting information.

We've published one article about his upcoming album based on the interview, with another one coming soon.
31 October 2020
Wowsan
"Who'd you get it from, anyway?" she asked him as they sat on a bench catching their breath.
"Just some gyopo out in the alley," he said.
She sparked the joint with one of the lighters she'd taken from the club.
"If we get caught I'm turning you in," he warned her.
"Not if I turn you in first," she retorted, taking her first puff.
31 October 2020

Seoul Waterworks Museum
After hearing Seoul has a waterworks museum, I set out to visit. Some but not all was very interesting, including the slow filtration basin and some of the waterways maps.
31 October 2020

Geumnam Market
I stopped by Geumnam Market to pick up some supplies for making ihwaju. While there I got onto the roof of one market building where I got a pretty good view of the surrounding neighbourhood. That's how Geumho looked back when I lived here in 2007 and 2008, minus some of the skyscrapers at the top of the hill. The neighbourhood I recognise is shrinking.
30 October 2020

Miscellaneous
Here are a few pictures from around the neighbourhood, between home and the bunker prior to moving back to the main office.
28 October 2020

Helen Kim Statue
I risked a visit to Ewha Womans University to see the Helen Kim statue.

This statue is controversial because she was president of the university during the Japanese occupation, during which time she made statements encouraging male Koreans enlisting in the Japanese military. She's also the founder of The Korea Times. She's also the founder of the newspaper, and the only reason that linked article mentions this is because I added it.

Korean collaborators is a necessary issue to address. The economic power structure today is founded on the shoulders of traitors who sold out their fellow Koreans. But I'm not so convinced she's one of them. Likely the majority of Koreans at the time would have agreed with her sentiment, and she and they didn't really have much choice to defy their colonial masters.

The weirdest collaborator accusation I've heard is one against Syngman Rhee, who cozied up to powerful pro-Japanese figures post-liberation in order to consolidate his power. I'm not so sure you can be a collaborator after liberation, and it was more the fault of the Americans than Rhee that the collaborators still wielded influence. Rhee was a pretty terrible president, especially after the Korean War, but he was still a pretty strong voice for liberation prior to 1945.
28 October 2020

Quarantine Stickers
When I was at the Crazy Multiply event a few days earlier, someone noticed the hospital quarantine stickers on my sleeve and thought they were an artistic statement.

On my next visit to the hospital this day, I saw one of the women working in the international clinic had collected the whole set on her nametag, but had missed out on the happy faces which had been used earlier for Monday and Tuesday. I told her she should wear that to art galleries.

I have a complete set at home with the happy faces, and another set at work with only one of the happy faces (which I found on a winter jacket after starting to wear it again recently).
27 October 2020

Broke Publishng
I held a gosa ceremony. As of 20 or 23 October (depending on the government office), Broke Publishng is now an official publishng company, although there is nothing for sale yet. Unless you want tins of tuna.

Also, I have confirmation that the tax office I've been visiting used to be a wedding hall.
26 October 2020

A Regular Work Day
More pictures from my daily routine, plus with jets flying over making a lot of unnecessary noise.
24 October 2020

Jogyesa Dinosaurs
On my way home, I stopped by Jogyesa where huge dinosaur plants have been inexplicably set up. Not sure what this has to do with Buddhism.
24 October 2020

Crazy Multiply Hyphen-Nation
Crazy Multiply's latest exhibition spotlighted marginalised communities in Korea. I went to the opening night, and while I was in one part only I took pictures.
23 October 2020

Bamseom
On my way home across the river, I stopped and got a closer look at Bamseom, something I'd never done before. Going down onto the island without permission is illegal and also ecologically threatening. Plus there are pirates. I have missed opportunities to go, including once at the government office shortly after I quit.

The idea of looking closer came to me after I saw articles about LG Chem leading a CSR cleanup there, which can also be viewed here and from 2018 here. Does pulling out "weeds" really promote biodiversity?
23 October 2020

Yeongdeungpo
I had to return to Yeongdeungpo, and this time I decided to find a roof to get a proper photograph of the tax office.
22 October 2020

Buster Toy
I bought a new cat toy, and probably just because it looks a little like Buster, it got him pretty excited.
21 October 2020

Washroom
Not the worst washroom I've seen, but a little redundant. At least they're far enough apart. And the hygiene is pretty high.
19 October 2020

Searching for Kenektid Bookstore
I'd heard about Kenektid Bookstore at Seun Sangga from another guy who makes zines. I went in search of the place and found it with not too much trouble.

Sewoon Sangga has become very gentrified all of a sudden.
18 October 2020

Whale Meat
I drive past this place all the time, especially now that I work at the Bunker. I first noticed it a few years ago, and I have seen whale meat before, but I had a hard time believing there was a whale restaurant so close to me.

I've tried dog in both Koreas, even if it was a tiny tiny piece each time, so if someone else reads this and wants to try this restaurant, please let me know how it goes. Try the suyuk.
17 October 2020

Goinmool Show
There was a show this weekend featuring Cockrasher, which still plays shows fairly regularly but I haven't seen them since they added back in their original lead singer. It also had The 1234-Dah! and two bands I hadn't heard yet. So I figured I might as well go now before we're back at Level 2.
17 October 2020

Buster's Recovery
Buster has spent the last couple weeks recovering from an aural hematoma, which required two surgeries. He fought against the bandaging and the lampshade, and over the last week when I totally unbandaged him he didn't hurt himself trying to scratch his ear or anything. I took him back to the vet for the last time to get the stitches out, and when we went home I gave him a special lunch outside so he would recover emotionally faster.
16 October 2020

City of Madness
It was my fortnightly three-day weekend, and I had a large to-do list that included stopping by a tax office and visiting Songdo, with several stops along the way. It didn't work out.

One of my main stops was Camp Market, a former US military base also known as ASCOM City. It has appeared in several of Martin Limon's novels which make favourable mention of its ville back in the day. One story even depicts US soldiers and Korean prostitutes smoking marijuana together in an alley, before the criminalisation got serious. Anyway, I made it to Camp Market just in time to see them closing the gate for the night.

I decided to keep on going, ultimately deciding against visiting Songdo this time, but I stopped by Incheon Harbor where I also discovered the Wolmido LRT is temporarily closed. Not my best start to a three-day weekend.
14 October 2020

Reggae Night
After I wrote this article, someone wrote to me asking about Korean reggae music. It turned out, he was a Korean national who had grown up overseas, and spent the early 1970s in Jamaica going to high school.
10 October 2020

Downtown
A few months ago, someone emailed me asking for permission to use some of my pictures in his graduate thesis about Seoul city preservation. He came back so we met up to walk around downtown.

It was a long and exhausting day, starting from Seoul Station and going past City Hall, up to Cheonggyecheon and Gwanghwamun, then following along Pimatgol. We ended up at a dakgalbi restaurant built on the site of the Insadong Fire.

I've written a fair amount about the area since then, including this opinion piece and this Transactions article.
9 October 2020

Bus Walls
There's been a lot of talk about how the government is turning authoritarian by putting up bus walls around Gwanghwamun. I lived downtown for most of Park Geun-hye's regime and often the bus walls prevented me from leaving my neighbourhood. One of my friends This time it was just up around a small part of downtown to prevent the same group of people from causing a COVID-19 outbreak again. This was nothing.

Here's an article I wrote about what it was like under the previous president. And to see how that looked, here are some of my pictures from April 16, 2015.
4 October 2020

Olympic Village
As I was leaving Lotte World and heading home, I remembered I wanted to see the old Athlete's Village from the 1988 Summer Olympics. It's like there's a bit of Edmonton as well as Calgary in Jamsil area.
4 October 2020

Lotte World
It's been a while since I've been to Lotte World, probably back in 2010 when I worked for the patent office. Much has changed, and several things I remember have disappeared. Wasn't there a bowling alley and a shooting range on the bottom level before? More of it seems to be taken over by the amusement park, while retail space has shifted toward Lotte World Tower.

Last year when I went on Robert Fouser's Changshin-dong walk, I met a Lotte employee who said they sent him to Edmonton in the 1980s to look at West Edmonton Mall for inspiration in the design of Lotte World. There are some similarities, and I can get a bit of nostalgia for my hometown when I go here.

I covered Lotte World's 1989 opening in a recent post on the Korea Times Archive project I started on Facebook.
3 October 2020

A Host Tunnel Thanksgiving
Another holiday, another walk through the Host Tunnel. We kept it small this time, and after hoping to see continued renovation work in the Bone Tunnel, we found all the construction lights were gone but soe of the bone tunnel bones still remained in the bone tunnel.
2 October 2020

Supper in Gwanghee-dong
It seems necessary to go for Uzbek food during the major holidays, when Gwanghee-dong is filled with migrant workers celebrating the time off. It's one of the few parts of Seoul that is more crowded and fun during the holidays.
30 September 2020

Esther Pak
A while ago I visited Donuimun Museum Village where I saw some questionable materials referring to Esther Pak as Korea's first nurse. Going back, this time I couldn't locate it. Was it all in my imagination? I still have more questions about her, including whether she ever really lived in the area.
29 September 2020

RAS Korea Business and Culture Club
We had an afternoon walk to the Chondogyo church in Insadong. Originally the plan was to admire it from the outside, but then Jacco backed out and JiHoon was called in to substitute, and I called Choi Chong-dae, one of our columnists who has written about the religion a lot (such as here). He is either a practicing Chondoist or has been one, and he got them to roll out the red carpet for us. Chondoism is an interesting religion, the oldest of Korea's "new religions," and appears totally benign, while also not too threatened that it is fading away. And their church has an impressive piece of real estate, with a beautiful building.
28 September 2020

Sunset Over Itaewon
I went back to the one abandoned building in Itaewon where I could get a good view of the area during sunset.
27 September 2020

Bunker Photos
Here are two panoramas taken from the bunker on a particularly dramatic cloudy day.
26 September 2020

Abandoned Itaewon
In Itaewon I've found two places where buildings are shut down and awaiting demolition or heavy renovation.
23 September 2020

Buster's Cone
Buster developed an ear hematoma, which is basically when the earflap swells with blood. The vet fixed it by slicing it open and stitching it up. Shortly after that, the vet had to drain his ear of pus, a procedure I'm all too familiar with, and then later he had to do another surgery.

Buster hated this thing, and did everything he could to remove the bandaging. I think that's probably why he had the complications. He spent entire days just whining at every waking moment, probably unaware how loud he was. Millie has been especially mean to him.

Buster is now as of 3 October better and his head is no longer bandaged.
20 September 2020

Dongdaemun Area
After the hotel, I drove around looking for another abandoned neighbourhood I'd heard about, then I went to Dongdaemun to go shoe shopping. The shoe market over there is hurting.
20 September 2020

Abandoned Hotel
I went back to the abandoned hotel during the daytime so it wouldn't be quite as creepy. I managed to see everything except the basement. There are elevators that are still functioning, but I took the stairs.
19 September 2020

Shaman Quest
Tom Coyner was interested in the shaman sites we'd tracked down on Inwangsan, and I was interested to see what Ryan had found on his own, so we all went together.

It is making me want to explore the slope more closely and look for other sites. We discussed it and technically this is urban exploration, as we are tracking down manmade things that happen to be surrounded by natural-looking landscape. I wouldn't want to have to argue very strongly for this though.
18 September 2020

Morene Market
It's been mentioned that Morene Market is slated for demolition, which I believe will wipe away the last of it. I returned to revisit old memories, only to discover they'd removed the part I remembered the most fondly. I had taken a few pictures in 2013 and it was always in my mind to go back with a tripod and shoot the area properly, but now it's too late.

Anyway, that section has been removed and a big construction fence is up around the area. The fence has a giant photorealistic image of a forest park, which can be very confusing. When I arrived, I saw a covered passageway that seemed to lead to a lush garden, but when I went in, I saw the construction fence. At many places along its edge, it seems like reality runs the risk of blending in with the picture. I wouldn't be surprised if occasionally a drunk walked into it.
18 September 2020

Seodaemun
I started my long weekend off by taking a trip up a hill to visit a few sites I haven't given much time to in several years. At the top of this hill there used to be a couple historic apartments that were in terrible condition. On the way up there were two other sites I wanted to check in on. One is still sealed tight but the other was easy enough to jump into. There was still a garden out front and the red peppers were ready for harvesting. I took one and as punishment ate it at home. It was pretty hot but not dramatically.
15 September 2020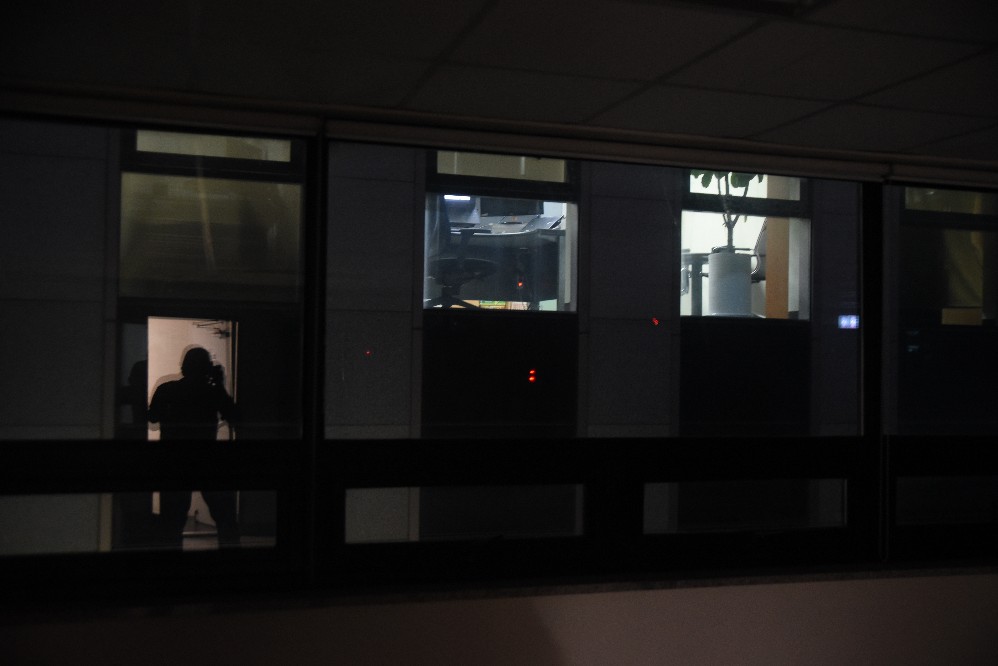 Bunker Desks
A few pictures around the bunker. I put up a banner with an inspirational message from my boss, reading "Tomorrow looks like it's going to be fun!!" Hard to tell if he's being sarcastic in this medium.
13 September 2020

Abandoned Hotel
I happened across this abandoned hotel on my way somewhere. Normally I wouldn't go inside, but the sign said come right in.
12 September 2020

Around
Here are a few pictures of random places downtown.
11 September 2020

Driving Around
I ran a few errands on Friday before starting work. This included stopping by RAS Korea to pick up some book donations for Michael Spavor, during which time I found a closed hotel, which led to a second closed hotel.

I probably would've been more careful, especially about hitting rooftops overlooking Yongsan Garrison, if I'd remembered it was 9/11.
10 September 2020

Bright Day
The clouds are always a little nicer after typhoons. I saw this view from my desk, so I went to the roof to get a picture.
7 September 2020

I.Mask.U
Passing by Seoul Square, I saw the usual "I.Seoul.U" sign was wearing a mask.
6 September 2020

Inwangsan
After I was done with the abandoned villa, I drove off along Bugak Skyway wondering what to do next. The road led me to my next adventure: on the slope of Inwangsan looking for shaman sites. I didn't find any more bas reliefs, but this time I got into two caves, one of which is probably used for small shaman ceremonies.
6 September 2020

Animal!
I crept up the stairs into this abandoned villa next to a Joseon tomb. There were sounds of something in there, probably a cat I thought. Then this creature came tearing by me. I initially thought it was a wild boar for whatever reason, but on looking at this picture I didn't remember taking, it seems most likely it was a raccoon dog.
5 September 2020

Full Gospel Church
I was driving out to the abandoned base in Paju, but on the way I passed by this massive white structure bearing the name of one of Korea's main megachurches. About an hour later, I returned having discovered the base gate locked, so I decided to try to get in here.
4 September 2020

Uijeongbu U Line LRT
My end goal was to get up to Uijeongbu so I could ride the elevated train there and take this video. I've been hoping to make videos like some I've been seeing, apparently mostly in Norway, showing an entire train trip along one line. I decided to start small.
4 September 2020

Rainbow 2 Complex
I saw this structure at the side of the road when I was on my way home, and I decided to stop and get some pictures.
4 September 2020

Camp Stanley Ville
I made it out to Camp Stanley in Uijeongbu, where there is still a lively community in the camptown outside, even though there are probably only Korean conscripts left in the base. It was in much better shape than the ville I usually visit at Howze, which closed over a decade earlier.
4 September 2020

Baeksa Village
After this was published, claiming Baeksa Village will definitely be redeveloped, I decided to go back. I wasn't the only photographer there.
4 September 2020

Drive
It was a long day of driving.
4 September 2020

Wasteupso
I started the day at Wasteupso, where this article was being created. I wanted to try metal straws, and sure enough Wasteupso had them.
30 August 2020

Bunker View
It's been discussed that this office is not a "bunker" because it isn't underground. A more accurate term would be penthouse. But in a pandemic maybe it makes more sense to have bunkers high aboveground.
29 August 2020

Orange Coloured Sky
I was planning to go to this event, but the sky was an abnormal colour and it was raining pretty heavily. I ended up taking the bus.
29 August 2020

Endangered Market
On my way back from the hospital, I noticed some signs of abandonment at this market I've driven by frequently. I've known for a while it's on its way to being turned into housing for the affluent.
23 August 2020

Parking Lot Street
I don't spend much time in Hongdae anymore, but I drove through and noticed they've turned this part, which used to hold parked cars, into some sort of festival area. I wish they did stuff like this back when Hongdae had culture.
23 August 2020

Abandoned Neighbourhood
I saw this abandoned neighbourhood on my way home a few weeks ago and decided to stop by to look closer. It's not particularly exciting, and they've been putting up metal shutters everywhere to keep people out of individual buildings.
21 August 2020

Climbable Building
Not saying I'm going to, but it would be very easy to climb on the exterior of this building up to the roof.
21 August 2020

The Bunker
In case COVID-19 reaches our office, the newsroom has been split into two, so if one is closed down the other can still function. I was in the hospital last time they did this, and my coworker who went to the bunker was miserable.

This time, I volunteered to go, and we are in a different building with an impressive view. It's old and the office is small, but it's kind of fun to have a change.

We're here for two weeks minimum, possibly longer.
19 August 2020

Roof
Next to my office building is a much smaller building that is closer to Sungnyemun. I've always wanted to try the roof, but there's a very attentive security guard on the ground floor. Finally I had an opportunity and gave it a quick visit. The view is a little closer than I'm used to, and not impeded by surrounding buildings, but I think the other roof is better.
18 August 2020

Protest Vehicles
When I stopped by the bank, there were two vehicles covered in protest banners across the street. I got two quick pictures and sped off. I believe both are financial-related, but I'm only familiar with one case.
15 August 2020

Return to GBN
GBN Live House has reopened after five months closed, during which time it suffered flooding, went through renovations, and released the most comprehensive Korean punk compilation in history (or at least one of the two, vs "We are the Punx in Korea").

My main reason to show up was to see Polluter's first show, as well as Slant which I'd never seen before. I also had newspapers to deliver to Songyi for a Talkbats article, Yuying for Ian's GBN article, and Deadbuttons although that article has only appeared online and won't be printed until next week.

Seven bands played, but I only saw four due to some extra social distancing measures I was taking (mostly involving skipping bands that were extra active and got the crowd extra active, and leaving early).

We'll see if all the measures worked, or whether someone brought an infection to the show, in which case maybe the party will continue at a quarantine facility somewhere.
14 August 2020

Around Work
Just a few random pictures taken at and around work between more interesting adventures.
6 August 2020

Escape Room
I found my way into something I never thought I'd see before: an escape room. It was probably easier to escape being out of business, but there were still obstacles to get over, plus fear of the actual unknown. There's video here
6 August 2020

Hospital Backrooms
I had a long day of hospital appointments, so I figured I might as well figure out some things that were bugging me about the hospital. The first was the route I was taken to the operating room, which went through so many weird back corridors I couldn't come close to figuring out the way. Another was the mystery of where the atrium in the middle of the hospital lobby leads. Turns out, it goes nowhere. If you fall in they just leave your body down there.

Some of the pictures made it into this K-Backrooms video.
4 August 2020

I.Atlantis.U
I went back to the river the day after to check the water level. It was dropping but still abnormally high. It was much easier to move around and people were returning to the riverside park. Fishing seemed popular.
3 August 2020

I.Atlantis.U
On the first day of serious flooding, I drove to the river for a look at the flood waters, same as I had done in 2011. I haven't seen the water level get so high since then.
1 August 2020

Yongsan Abandonments
As I was driving home, I rounded a corner and passed by a cluster of medium-rise buildings that were being curtained off for demolition.
1 August 2020

Black Hawk Village
A small part of Yongsan Garrison has been returned to Korea. Technically the land changed hands several years ago, but the land ministry was leasing the land to the USFK, or something like that. Black Hawk Village, also known as Loring Village, held 16 housing structures in a plot of land 12 acres large. There was an opening ceremony in July with several political VIPs in attendance, but its opening to the public on 1 August was much more low-key, probably partly due to the rain and the pandemic.
30 July 2020

Hongje Stream
I came across an article about Hongje Stream's reopening as an underground park. I scouted it out five years ago, but never really gave it much attention because it looked messy inside and probably didn't stretch very far. It's now been turned into a space that's particularly interesting for urban explorers, while also nice enough to lure in normal people. I hope it sees increased renovation over the years, especially focusing on water quality. I also think this would be an ideal site for what I've been saying for years about the Host Tunnel: bring sunlight into it using technologies like what's seen at the Jonggak underground solar garden.
27 July 2020

Adnan Kebab
I stopped by the kebab shop just before we were about to publish an article on it. Once again I arrived as he was praying, so I went inside the building to look around and find the prayer room, as well as the roof of course.
25 July 2020

Meetup
We had another meetup, and this time there were definitely too many people. It's kind of a good problem to have, because prior to this I didn't think there were that many people left who would go exploring. But on the other hand, we were too conspicuous. We visited a historic monastery and an active market, but also an abandoned neighbourhood.

We took some precautions and spread out quite naturally, but still there were locals who didn't like that we were there. There was also a tense moment after when people started telling dead baby jokes (the sickest ones I've ever heard) and ended up pissing off some of the other people there. Anyway, it's shown the risks of growing too fast and not taking enough care while doing so. In order for urban exploration to be taken seriously here and even catch on, it has to be inclusive and willing to learn from mistakes.
24 July 2020

Seun Sangga
At Donuimun Museum Village, I saw a panorama on display showing most of the entirety of Seun Sangga. I went downtown to see if I could get a similar shot. There are now too many big buildings adjacent to it to make this easy to do, at least from the east.

An early attempt, I tried getting to a roof of one building which involved walking through Fairtrade Korea's office. It was unsuccessful and I think I gave them a scare. Too bad, because they could have a very nice rooftop relaxation area if they were able to get permission.

I might try scouting roofs on the west side, but I'm pessimistic about being able to get the image I want from anywhere.
24 July 2020

Donuimun Museum Village
I was stopping by the hospital to buy more gauze, and after that I went to Saruga and then visited Donuimun Museum Village on the way home. It was partly reopened, and visitors had to provide a QR code to receive a sticker granting access to the buildings, just like at the hospital.

I was mostly there to hit a roof, but I also visited more of the buildings I'd never seen before. One was the house of Esther/Ester Pak, the first Korean female nurse/doctor. I might have to look into the correct spelling of her name, and if it is accurate to call her the first nurse when she clearly had an MD.

On display was a bunch of era-appropriate equipment, including gauze that looked no different from modern stuff. I charmingly told the woman on duty there, "What a coincidence, I was just at Severance buying gauze."

I've been revisiting some sites after a friend shared a video with me about liminal spaces. After going through my pictures from the last 10 years I've started collaborating with a musician on K-liminal space videos.
22 July 2020

Noryangjin Protest Event
Art Liberation Front has been promoting an event for the last few weeks relating to the Noryangjin protest, taking place at what seems to be a repurposed sauna in Ahyeon-dong. There've been various performances throughout the week, and I finally decided to end up at one. I only saw four acts but it was good seeing more people once again, including old friends as well as Noryangjin protesters.
22 July 2020

Downtown
I wanted to stop by a few sites, including the underground solar garden of Jonggak Station, for a project I'll reveal sometime soon.
20 July 2020

K-Quarantine
I've been meaning to show off my quarantine stickers. Have I already shared this image? Possibly before Monday and Tuesday were changed.
19 July 2020

Inwangsan Shaman Sites
David A Mason posted about mountain spirit bas reliefs recently rediscovered on a rock face on Inwangsan. They had been uncovered in January with the demilitarisation of part of the mountain, after a civil defence site was closed and returned to the public. He put out a request for more photos and location info, and I was able to oblige.

I visited once before my Sunday work shift, and returned after at night to try to bring out the details a bit better without daylight getting in the way.
17 July 2020

Reseters Digital Single Release
The Reseters were finally getting around to the release show for their digital single, so I wrote a quick article about that and two other reggae releases. I was working the late shift that night but I showed up at Club SHARP after, just in time to catch two songs.

I parked my scooter out front in a hurry and hurried in. Just as they were starting their last song, someone jumped on stage to ask that the owner of a yellow scooter move it. So I very visibly had to walk past everyone to go outside just as they started playing "Johnny Too Bad" (here's an older version). Thanks, but I already have a theme song.
17 July 2020

Abandoned House on Inwangsan
As part of my preliminary scouting for David Mason's mountain gods, I came across an abandoned house.
14 July 2020

Yongsan Disaster Unintentional Memorial
I went back to reshoot the tulip flame installation next to the Yongsan Disaster site, as the previous pictures were taken in the early morning when the lighting wasn't so good.
12 July 2020

Underground River
I had seen construction fencing on the surface, so thought there might be work going on in the underground river beneath, sort of like we've seen at the Bone Tunnel. But whatever was going on, it seemed to be all on the surface.
12 July 2020

Pimatgol
I did a bit of research and going through my archives recently, for an article about Pimatgol's and Insadong's slow disappearance.
12 July 2020

Seoul Plaza Memorial
There is a public memorial to the mayor set up in Seoul Plaza. People enter on one side and go on a long walk all the way around the lawn, staying separate all the way. Also there are small protests nearby.
12 July 2020

Yongsan Disaster Site
If we were playing Family Feud, and they surveyed 100 people on what they thought this installation looked like, I think the second-biggest answer would be fire.

Kind of tasteless, considering it's only a few meters from the former site of Namildang, the Yongsan Disaster building.
12 July 2020

Four Buddhas
The site I visited recently where there were four Buddhas has now been flattened. There were other buildings left, and I saw more cats this time.
12 July 2020

Noryangjin
Ever since I attended a protest at Noryangjin Station that was raided by hired goons in February, the remaining protesters have held on. The main development that happened was the complete demolition of the old market building, which was very close to their fortified location on an overpass leading to the building. The overpass is now basically a dead end. It's unclear what will happen with this issue in the future.
12 July 2020

Sunrise
As I was driving around, I saw sunlight coming up in the north. Of course, from Yeouido looking across the river, you're actually looking northeast because of the curve of the river, but I usually don't think of the city that way.
12 July 2020

Tunnel
I found a big hole in the ground and thought it might lead to a subway tunnel. But I'm pretty certain now they're just putting in another underground mall.
10 July 2020

Mayorless City
This journey started from one hospital and ended up at another halfway across the city. On my way between them I drove through Bukchon and went up to Waryong Park.

The news of what happened with the mayor came on suddenly, and with the announcement his body was recovered has been getting worse. There's no way to express my thoughts on what happened without writing a long rant, and it's already almost 2am. In short, the mayor did something wrong and very hypocritical, and in response he committed an irreversible action that compounded his mistreatment. And the media has been magnifying it all, splashing his body across the front pages of every newspaper. I remember Roh Moo-hyun's suicide in 2009 and I'm expecting this to end up as ugly if not worse, considering Park was in office at the time, he is accused of a worse and more hypocritical crime, and the effect his suicide will have on his victim, as well as all the usual societal and political fallout. The situation is still developing, and will be until the byelection scheduled for next year, so I'm not ready to put any more conclusions into words.
9 July 2020

Seoul Grand Hyatt
The Hilton has been having fun with room lights during all the vacancies, arranging patterns including a happy face, a heart, and messages. But when I looked over at the Hyatt, it looked like the lights were on in some sort of deliberate, systematic way. Probably they do have that many guests, and I'm curious if they are spacing out guests so there's one per floor, and few of them have to worry about someone being in the room above them. If so, it's a nice idea that the guests would probably never realise. Also, Stephen Biegun is probably one of them, as he's here to tell everybody America isn't done being the World Police.
8 July 2020

Namdaemun Restaurants
A friend posted on Facebook recently about a kebab shop he visited in Namdaemun. This is a perfect location to me because it's close to my work, and means I don't have to go over the hill to get kebabs.

It turns out Adnan is the name of the owner, and he's Iraqi. He said he's been in business here since 2008, which is long before I ever encountered any kind of food like this in Korea.

I showed up while he was praying and only took a few shots from far back so I wouldn't disturb him, but I am planning to return soon with a professional photographer.
3 July 2020

KSale Display on Sungnyemun
When I ran out to the convenience store, I noticed Sungnyemun was all lit up with butterflies. I went up to the roof to take pictures, during pretty well the perfect blue hour.

After I got back to my computer, I blew up some of the pictures to figure out what the signs said. It was KSale. K-Sale is on the K-Iceberg, mostly thanks to a 2015 event. The current event doesn't quite qualify because the URL is "Ksale" lacking a hyphen; thank KOCIS that it is hyphenated here.
28 June 2020

Four Buddhas
Lately Ryan has been doing a lot of amazing work, while I've had to slow down. He visited one abandoned neighbourhood in southern Seoul, and in one older part he found four Buddha statues. I went a couple weeks later and they were still there.

The area is in a weird little plot of land, very steep uneven terrain surrounded by highrises. It's quite something to look at.
27 June 2020

Zine Market
I went by Crazy Multiply's latest zine market. It involved signup a couple weeks in advance, and zines were for sale. I wasn't there as a participant, as my zine isn't officially ready and wasn't by the time of their deadline. Also, it's free so why would I sell it somewhere? The venue, YouKillBong, was basically a house on top of an office building in one of the old parts of Euljiro. It was quite a surreal location.

I bought tons of zines, but I'm not prepared to list them all out. Most are artists' work and more visual, while I'm a writer and my zine is for reading but not much to look at. We get along well.
27 June 2020

Donuimun Museum Village
I ran to Donuimun Museum Village to get a couple photos of the area, but it was all closed down due to the pandemic. Almost no one was there, even though it was a pleasant summer day.
26 June 2020

Copy Salon
I went to Copy Salon to get some stuff printed. It's run by one of the guys from Chain Reaction so it's easy to get stuff printed with him.
26 June 2020

Yeonhee-dong
I had time to kill so I went to Yeonhee-dong and investigated a cleared spot on the hillside a couple years ago. It looks like they tried to build a road here, but gave up partway through and it's been like this ever since. They should turn it into a skatepark or something.
21 June 2020

Solar Eclipse on Summer Solstice
It does seem to be a pretty big coincidence there's a solar eclipse on the summer solstice.

I had no equipment for viewing it, so I went up to the roof to see if I could detect the weakened sunlight. Kind of.
16 June 2020

All Sunsets Matter
The night after that epic sunset, I found myself wondering why everyone was so obsessed over it, when there was also presumably a sunset this night behind the grey sky.

We should simultaneously admire all sunsets, and if you catch yourself particularly fascinated by an exceptionally nice one, remind yourself that All Sunsets Matter.
15 June 2020

Epic Sunset
This evening, half of my Facebook friends in Korea posted their own pictures of the sunset, which was spectacular.
14 June 2020

US Embassy Banners
The US Embassy has had the rainbow banner up for this month. And then on June 13, they added a "Black Lives Matter" banner. I drove by to get a picture showing this. Then on Monday the inevitable happened, and they got orders from the State Department to replace it. At least they didn't put up a Confederate flag in its place.
13 June 2020

Itaewon
Itaewon has been killed by the second wave of COVID-19. Of the businesses that are open, they're never crowded. I've been going to the area for takeout in order to support them.
13 June 2020

Abandoned Neighbourhood
I got a tip about this area several years ago, but when I visited all I saw was a fairly robust area with a lively traditional market. Of course, wait a few years and things change.

One of my coworkers wrote about how Sarang Jeil Church in the area was suffering and her description sounded similar to what I witnessed at Noryangjin: "On Friday morning, Seoul City sent hundreds of workers and police."

However, I don't think this will become the next flashpoint, another "2nd Yongsan," because it's a very conservative church known for criticising the city government and federal government.

I made a video of a drive through the area. Won't be long now before I can retire from my job.
10 June 2020

City Halls
I stopped by City Hall today during my lunch break and took a few pictures focusing mainly on the construction materials of the old building and the walkway connecting it to the new one.
6 June 2020

Solidarity March
When I heard Ji-hoon, frontman of Huqueymsaw and former member of a number of other bands, was organising a Black Lives Matter event, I was apprehensive, for all the usual reasons. I knew I'd end up going, but I couldn't ignore the merits of some of the accusations against it.

On top of that, he was getting deluged by anti-BLM people, and he essentially went viral, something I don't think he was prepared for.
3 June 2020

Honeysuckles
This year I noticed for the first time that my garden was overrun with these yellow banana-looking flowers. Not sure why I never noticed other years, maybe just because they come so much later than the others. But they were everywhere, even on Buster.
31 May 2020
The "Great Japan" Hanok
Our final stop was at the "Great Japan" Hanok, which has roof tiles featuring the Japanese flag and "Great Japan" in Hanja. Ryan discovered it while looking around a neighbourhood that's supposed to be demolished soon.
We met up with Jooyoung Lee, an artist who had studied the area for a few years, and her husband. I originally met her in 2010, back when the Okin Apartment complex was still standing.
There was some concern that we couldn't get them into the property because it involved scaling a metal gate, but we found out, completely by fluke, the gate wasn't as secured as it looked. This is after half our group had jumped over.
Our second visit was to the area with the Buddhist temple that used to have a lot of statues and shrines inside, but now all that has been removed.
After that we jumped a wall and walked through a demolition area, and it was a fairly fast visit.
I found a mulberry tree and was able to pick and enjoy exactly one berry. That reminds me I should check my other berry site next to the US base.

What can I show you all my mind!
It seems all the urban renewal sites we know are disappearing fast right now. I'm not sure I'll get another chance to visit these areas before they're all knocked down.
To welcome JiHoon back to Korea, I arranged for a meetup after he was finished his quarantine period. It ended up being a good day, and we saw a lot and did a lot of walking, not to mention learned a lot from JiHoon.
There probably aren't a lot of UE meetups happening this year, but we were able to safely pull it off. Or at least we'll known by late next week if I've doomed Korea's urban exploration community.
30 May 2020

Itaewon Villla
I returned to the villa in Itaewon, thinking I might try to get in again. This time, the parking level was crowded with vehicles, I think from a construction site nearby. I took a couple more pictures showing the situation of the place, and then left quickly.
29 May 2020

Scouting Around
I revisited a few sites to see how they were holding up. Demolition has been moving fast.
28 May 2020

Abandoned Villa
While on a food run in Itaewon I saw a high up curtain hiding something. Going around it, I found an abandoned villa. Demolition seems to be stalled. It's closed up tight so I doubt I'll see the inside in time.
17 May 2020

Buster's Tent
Just one picture of Buster camping again.
6 May 2020

Buster Goes Camping
Buster knows how to open the screen in the window, so if I'm not careful, he'll dig his claws in and nudge it open, crying while he does it. I ignored him this time, and when he stopped all the noise I discovered the screen open and him gone. I looked out the window to see him relaxing in his tent in the garden.
3 May 2020

Pimatgol Demolition
Another corner of Insadong has been lost. I got an alert that demolition was happening while I was in the hospital in January, but I wasn't able to visit until recently. I had just led a group on my RASKB tour of the area last October, and at this rate it'll all be highrises. I'm expecting to have more opportunities for anarchaeology in the coming months though.
3 May 2020

Early Stages of Abandonment
I'd been meaning to visit this area with a lot of historic architecture, hearing tips it is being prepared for redevelopment. Mostly it is still too early to go, as there are still residents.

Also, I made friends with a bee I think was injured.
25 April 2020

Cats' Adventures
The apartment was being cleaned so I let the cats out. Millie struggled to put on shoes, but Buster was happy to go outside into the garden. He likes his tents.
24 April 2020

Abandoned Area
I visited an abandoned Buddhist temple after a friend tipped me off. I was working on a project so I didn't get many shareable pictures.

Buddha's Birthday was approaching, but it was unclear what would happen on that day, which was part of a long weekend along with May Day and Children's Day. Turns out we'd get another wave of infections.
19 April 2020

Crazy Multiply Zine Exhibition
I was invited to contribute my zine to an exhibition held by Crazy Multiply, located at a very small room in an old building in Euljiro area. There are a number of local and overseas zines on display, and visitors are urged to put on rubber gloves to look at them.

It's on until April 26.
18 April 2020

Abandoned Neighbourhood
I decided to go out for a quick drive and see an abandoned neighbourhood that some friends had visited the week before. I wasn't there that long but still somehow took a ton of photos.

It was right when a lot of spring flowers were in bloom so I tried to target that.

I also found a lot of examples of half-basement apartments, which is a type of housing that got a lot of attention following "Parasite."
13 April 2020

Shoe Cat
Millie tried wearing shoes again. Well, shoe.
9 April 2020

Demolition
...And it's gone.
7 April 2020

Just One Building
While driving home I noticed this one building just off the road. It's a pretty steep plot of land, so the house is built into the landscape with separate entrances for lower and upper floors.
5 April 2020

Abandoned Neighbourhood
I went out to revisit an abandoned neighbourhood near Konkuk University, but on my way there I discovered another abandoned neighbourhood. SO I stopped and looked around that one. After, I went on to my original destination, which was all but gone.
4 April 2020

Buster Goes Camping
The cats have been spending more time at the window lately, so I opened it up and Buster jumped out into the garden. All the furniture that had been on the roof before had been thrown into the garden last year when the roof was redone. Buster noticed his old circus tent was here, although it is just scraps now. We have another tent that looks a little more durable, so I set it up for him and he liked it.
24 March 2020

Severance Hospital
I stopped by the hospital for a couple tests and took one photo of all the tents in front of the emergency room entrance
16 March 2020

Toilet Paper Shopping
On the way home I stopped by a couple supermarkets and photographed the amount of toilet paper they had in stock.
16 March 2020

Another Abandoned Area
After leaving the day before, we came across another abandoned neighbourhood, so I went back for another look.
15 March 2020

Return to New Shaggy's Village
I wanted to get out, so I figured it was safe to go to an abandoned neighbourhood where I hopefully wouldn't run into other people that much.
8 March 2020

Cats
I discovered that Millie's sphere is being penetrated by rainbows in the early morning and at sunset, when the light shines in, bounces off a mirror, and reflects back on her.
21 February 2020

Noryangjin Water Fight
I found out about a forced eviction of the Noryangjin protest camp, so I showed up at 3am to see for myself. I've heard of this happening before at other sites but had never had the chance to witness it in person. It was deeply disturbing and played out sort of like some kind of contact sport, in which one side was using property damage and the other side was fighting back with water.

There might be an article out soon that enunciates my thoughts on the whole situation.
11 January 2020

Nels and Sohhee
My friends visited after moving away almost five years ago. We caught up and went for food, and then I disappeared off the face of the Earth for three weeks.
9 January 2020

RASKB Dinner
We had a dinner to celebrate the end of the year or the start of the year or something. I credit the wooden benches here with putting added pressure on my insides which led to my hospitalisation, although it was getting to the point where it was inevitable and anything would have done it.
6 January 2020

Millie's Slippers
Millie has been sitting on one spot on the floor, and when I left my slippers there, she would just lie on top of them. Sometimes it looked like she was trying to wear them.

These are the same slippers I bought in Pyongyang and wore all the way on the voyage home.
5 January 2020

Shopping Trip
On the way home, I wanted to go shopping for a new jacket in Dongmyo. I ended up getting two.
5 January 2020

Other Building
I passed this commercial building on the way home, and gave it a quick visit. I got inside but didn't bother taking any pictures. When I drove by in mid-March, it was totally demolished.
5 January 2020

New Shaggy's Village
Here's a fairly extensive abandoned neighbourhood you can expect to see more pictures of in the months to come.
4 January 2020

Yulgok Tunnel
I've been watching for more than five years as this section of Yulgongno between Changdeok Palace and Jongmyo has been relocated underground. It's been a slow process, but the tunnel is finally fully formed and traffic is running smoothly through here, now that the road's been widened. It's still interesting to walk around on top.
4 January 2020

Millie and Buster
Buster is lazy and Millie wants food.
2 January 2020

Sights around the Hospital
It has been an unpleasant year for me with very slow and very few updates, due to much time spent in the hospital. Before I went in for 21 days, I took a couple pictures on visits to the hospital.
1 January 2020

New Year on Naksan
I showed up at Morgan's place for his first New Year's party in two years. He wasn't expecting many people, but somehow a ton of people showed up. I knew four people there.

We climbed Naksan past the place where I carried the Olympic torch, and saw fireworks. Still tame compared to when we used to light our own fireworks.
2019

Smartphone Camera
I'm going to cap off this year with pictures taken on my smartphone throughout the year. I consider my DSLR to be my serious camera, and anything taken on my smartphone is disposable. But quite a lot of interesting things popped up on it this year that I didn't take with the DSLR.