20230916

RAS Korea Garden Party
We finally had a garden party. It was a little smaller than before, and I don't know when the next one will be, but we did it. I saw quite a lot of people who haven't been around in years, and hopefully they'll start coming to more events again. And there were a lot of people still not there.
20230913

Night
Just a few photos around walking distance of home, late at night.
20230912

RAS Korea
I went to another RAS Korea lecture, but I had to rush back to the office for the city edition deadline.
20230912

Parking
Worthy of Failed Parking in South Korea?
20230912

Roof Work
Workers came over and started tearing up my roof garden. When they went for lunch, I went out to see what they were doing, and Buster followed.
20230911

Whale Hanok
On my way to the office, I saw workers doing something at the Whale Hanok on the corner. I went back later only to find they'd sealed it up. So I found a way over the fence. A day later, they removed parts of the wall making it easier to just walk in.
20230911

Roof
Just a cat enjoying a roof.
20230910

Swiss Chalet
After eating at the real Swiss Chalet (in Canada), I returned to Korea only to find that the building that had hosted the Korean Swiss Chalet was undergoing some kind of work. Well, I guess urban exploring this counts as going to Swiss Chalet, so I now grant my sister one visit to Swiss Chalet. But she's probably taken many over the last 20 years without me, so let's just cross one of those off.
20230909

Goths on the Beach
Well, I finally saw Goths on the Beach, and they did not disappoint. This is despite one of the members having her leg in a cast. But it still seemed like she knew how to do her dance moves despite this hindrance.
I have interspersed in this gallery several images generated by Ddal-Ddal-E when it was prompted to come up with images of goths on the beach.
20230909

Iron Hill
A friend had told me there were more abandonments in this area, but when I went back all I saw was lots of apartment construction, plus one tall hill in the area that looks like it's being violently removed.
20230909

LSD Station
I last visited this site way back in 2012. Now, over a decade later, it's the same but just dustier, and possibly with more alarm sensors. Pretty weird, considering it's right across the street from a pretty important government building.
20230909

Slide
On the way out to my destination, I spotted a building along the side of the road. The windows were out and there was a fence around it, but I could tell it otherwise didn't offer much. Expcet it had a slide, the kind where kids get to go down at the end of the day to go home. I've seen several of these but never had a chance to use one.
It was at about a 45-degree angle, with a sharp landing. It's now 12 days later and my tailbone still hurts.
20230908

Gangnam
I went down to Gangnam to test out my scooter battery (the roundtrip took out about a third of my battery), and also to check in on one or two sites, plus get a sandwich.
There is one change: in the area viewed in this preview image, there used to be a revolving door, but they took that away. Otherwise, stull a hulking shell.
20230907

Abandoned Stuff
On the way to a photo exhibition about abandoned places, I passed by some abandoned places. They looked closed up pretty tight though.
20230906

British Spider-Man
I met up with British Spider-Man again, and we officially urban explored something. Also, that guy can really drink.
20230904

Downtown
I was stuck at work, still editing photos from my vacation, so I jumped on my scooter and went out to pick up some food.
20230903

Eggies
The cats were happy to have me back. Enduring Coetzer and his music hasn't fazed them much.
20230902

Back in Korea
After returning, I went out to the usual area to say hi and do my rounds.
20230901
Back to Korea
After two weeks, I headed back to Korea, where I had a lot waiting for me: two hungry 17-year-old cats, an RAS Garden Party, a disturbing new underground space in the city center, a native Korean urban exploring community I'd never heard of before, an electric scooter, two pages a week, and a lot more.
20230831
Farewell Dinner
On my last night in Edmonton, we had one final dinner at Sorrentino's, an Italian restaurant where I worked as part of a semester-long student program in 1994 when I was in grade 9. While working there, I stuck my finger into an electric parmesan cheese grater, and it sliced into the fingertip pretty deep. I still have the scar.
The food is good, and any traces of my sliced-off bodyparts are long gone. I was overcome with fatigue somehow. Is it possible to get preemptive fatigue? Anyway it made me sleep well before my early flight the next morning.
20230831
End of the World
We had to drop a car off at a shop for some kind of repairs, so we took two cars out, and one car back, then later one car out, and two cars back. I got a little lost on my way home, driving through the university campus and then ending up at the End of the World.
20230830
Whyte Ave
On my last non-family night in Edmonton, I went to Whyte Ave where I met up with Jim, the outgoing owner of Phillies, and his wife, who have relocated to St. Albert.
Later, I was joined by three good Edmonton friends, and worlds sort of collided.
20230830
Canada Brewhouse
We went for lunch at Canada Brewhouse, which seems to be a chain that offers good beer and pub food.
20230829
Comedy Night at Blakbar
After seeing his one-man Fringe play, I decided to go back for Kamal's comedy night at Blakbar. It promised four comedians hosted by him, but we got more like eight.
20230829
Capilano Library
I went to Capilano Library which had some digitisation equipment I used to put an old VHS tape from my 1996 first trip to Korea into digital. Unfortunately, the tape only had the first few days of the trip, and didn't include the later stuff I was interested in, such as Seoul, and especially the footage on the last day when we saw the police mobilised against the protest at Yonsei.
Also about half of it was footage I shot in Edmonton in 1996, mostly in school, in an attempt to show Koreans what Canada was like. Looking at the footage, if I had ever shown it to any Koreans, they would probably have thought we were insane delinquents.
20230828
Shopping
Just a few pictures from shopping on various days.
20230828
Gus
Here are some pictures of Gus, the cat that doesn't trust anyone other than my parents.
20230828
St. Albert
We went to St. Albert, where I bought a camera battery charger and was able to start using my camera again.
We had supper at Swiss Chalet, a chicken rotisserie restaurant that always seems to be run by Taiwanese people. From a young age I couldn't be blamed for assuming Switzerland was full of Asians.
Partly because of the addictive dipping sauce, my sister and I are very competitive about visiting here. In the past, if one of us was brought here, the other would have to go too. I've been gone from Canada almost 20 years, so I think my parents owe me several visits, but bringing Annan along means we didn't even the score.
20230827
UE Meetup
After my camera battery died at Purple City the night before, I had to resort to using my phone. I met up with the local UE crew which included guys from Edmonton as well as Calgary, all people I'd met previously in 2017. This time we just went for a meal together so we could talk shop, rather than going on any adventures.
20230825-26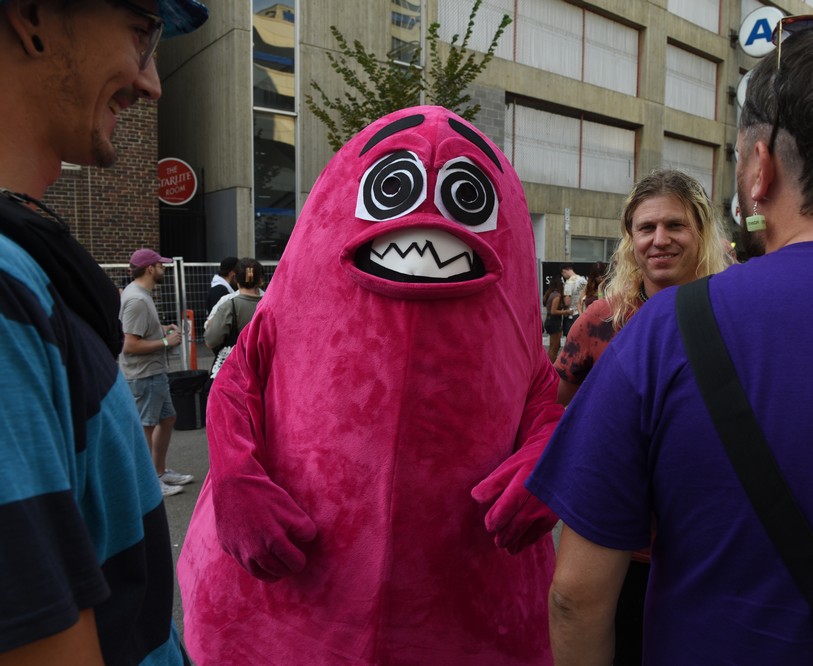 Purple City Music Festival
This is going to get messy. I have a few dozen separate galleries of my coverage of the first two days of Purple City. I lent my camera to help their cause, and did what I could to cover as much ground as possible, while also covering 100% of what the organisers wanted me to hit and stopping in on a couple other acts I needed to see. It was quite a journey.
If you want to know more about Purple City, you can now read the newly created Wikipedia article about it.
20230825
Valley Zoo
When my former CJSR programme director visited Korea earlier this year, we got to talking and I came up with the idea of visiting the Edmonton Valley Zoo during my visit.
There were two main objectives to this visit: see Lucy the 47-year-old elephant, and the historic carousel. We accomplished one of those, but the carousel was under a big tent.
20230825
Talus Dome
"I love the balls; I think they're great."
-Ester
This thing has been sort of in limbo ever since some dude got trapped inside it.
I'm pretty indifferent to this thing, and I think it only symbolises Edmonton's sprawly car culture that allows you to view art as you zoom by on a freeway.
20230824
Annan
My sister flew in from Vancouver, and once we were at our parents' home, we went on a walk and came back high.
20230823
Night Sky
After the Fringe event, we headed home around 9pm, as the sunlight was fading.
20230823
Arabic School Dropout
My old friend Kamal had a Fringe event, which was basically a monologue where he explained his turbulent childhood, which started off with him in Arabic immersion to him ending up becoming an actual literal superhero in high school, no exaggeration. I knew much of it but not all, and learned quite a lot by sitting through the whole thing.
Kamal has gone through a number of name changes (which is explained throughout the performance) and has ended up a cornerstone of Edmonton's comedy scene. I'm proud of him and continue to cite him as the person who pushed me down the path of journalism (or at least my version of it).
20230823
Drive
The only day I got to do this, I borrowed one of my parents' cars and drove around the city on a nostalgia tour.
First I visited Summerlea, the neighbourhood where I grew up next to the at-the-time world's largest shopping mall. I also stopped by next-door Terra Losa, a community that was under construction at the time, where I got some early formative experience in what would later be called urban exploration.
Plus I had lunch at Arby's, which lived up to my expectations very well, except for the fact they no longer had peach juice.
Plus I went to Freecloud, where I bought one single calypso record and also spent about 20 minutes waiting for Rich to get off the phone.
I also drove through downtown before heading back to the west side, finding a closed hotel along the way, and then ended up at West Edmonton Mall, where there'd been a shooting a couple days earlier (which turned out to be gang-related). I had taken a very similar photo to this one a year ago, on which I ruminated on the bizarre death of Metallica lead singer Blair Piggott at that shooting range. But this time, the sign was directing me to go literally back to the actual scene of the shootout.
20230822
Gus
Here are a few cat-related photos from around my parents' home. Even though I picked this guy out 10 years ago, he now hates me.
20230822
Jebus
I visited Aaron, who I would describe as a legendary-level promoter of the Edmonton scene. I had done this last year, but had been unsatisfied with how the pictures had turned out.
Last year had found him laying kind of low, but this year he was getting involved in events on sort of a consultant level, from what I gathered.
I had given him a copy of Rapscallion's Den last year, in which there is a character that is obviously somewhat based on him called Moses, who is landlord of the main characters and an unlikeable hippie. I explained to him that the intention was not to make a parody of him, but to make a character he could play in a TV show.
20230822
Calgary to Edmonton
When we woke up in the morning, we were fogged in. Not bad enough that we couldn't drive, but still pretty bad. Time to spend three hours driving 300 kilometers north, with a stop for breakfast in Red Deer halfway along the way.
20230821
Korean Food
During my time in Calgary, I had dinner in a Korean restaurant called Sudam. They had pretty good bossam.
20230821
Edmonton to Calgary
On Monday, my dad drove me down to Calgary for a game of disc golf.
20230820
Greg
On my last two visits (2017 and 2022), I failed to meet up with Greg, my childhood best friend, who always seemed to go on a family vacation whenever i was visiting. This time we did succeed in meeting up, for the first time since 2013.
For this visit, we had a family dinner, and then he brought me into a nearby ravine (at which point I started taking pictures). We rode a couple of Lime scooters down the ravine, until we arrived at the river. The whole time, my scooter was low on batteries, and I worried about it running out, but I was with Greg so I followed after him. It ran out as we were trying to get out of the River Valley, and we had to walk all the way back.
20230820
Cats
I have pretty high standards when it comes to cats, at least in the written language. My parents' cats didn't quite cut it.
20230819
Untouchable Crew
Way back in 2017, I found out that Arlo Maverick was coming to Korea for Zandari Festa. I made contact and we had one more amazing day exploring Seoul together and going up to the roof of The Korea Times, during which K-Riz, one of the artists in the group, started composing a song.
I was one year ahead of Arlo in high school, but I do recall seeing him and other rappers performing at a school event, maybe in a configuration similar to what I saw at Zandari.
Anyway, he put out a documentary film about Edmonton's b-boying scene, which you can read about here and watch here
20230818
Edmonton
Edmonton on the surface looks like a pretty boring place, a metropolitan area that's larger than Seoul but with less than a tenth the population. It's awash with arts and culture as well as festivals, but due to geopolitics it's outside the zone where people really care what happens. It also has a lot of urban sprawl, which you can enjoy in some of these pictures.
20230818
Going to Canada
On the heels of the World Scout Jamboree, I peaced out and left the country for a couple weeks. I had taken two weeks off work last year, but two things were different this time: I brought my work computer with me, and also things were a lot more opened up in Edmonton during the period of my visit so a lot more stuff was going to happen.
Last year was more about recovering and reconnecting, but this year was about once again seeing what Edmonton looks like with me there.
20230817
Last Days in Seoul
Here are a few photos from my last days in Seoul before going back for a visit to my hometown.
20230816
Vet
This is one of the cats that lives at the veterinary clinic near my home. Buster does not trust him.
20230815
Jia Visits
One of my freelance writers visited, so we went out for Chinese food and wandered around the office.
20230814
Towed Ambulance
While walking through Insadong I saw an ambulance being carried away.
20230812
Scooters
I lined up the old scooter for a few pictures, and included one with the new scooter.
20230810
Rain Damage?
While sitting in bed with the cats, I heard a very loud sound outside like a bang, accompanied instantly by a bright flash. I sort of wondered if it was a transformer exploding. Later, I went outside and took this photo looking for damage. I couldn't see any, and it doesn't seem like anyone suffered a power outage.
20230809
HBC
Just a few pictures at the usual spot in HBC.
20230807
Ominous Clouds
Early in the morning, I noticed these ominous clouds closing in. Shortly after this, it rained heavily, but by the time I was ready to go out it was better.
20230806
Scout
I went out to meet with a confidential source, the Latin American volunteer cited in this article. He has kept me up to date with all the craziness happening in Saemangeum, but also has been questioning whether he did the right thing. I think history will show that he made the right move.
He didn't seem to be a huge fan of dakgalbi though.
20230804
Itaewon Closures
Two businesses right next door to each other disappeared together, a Pizza School and a "Friend Chicken."
20230802
Photo Heim
The Photo Heim didn't get many customers this night.
20230801
HBC
Coetzer is petsitting in Itaewon, so I invited him out to hit some of the notable abandonments in HBC.
20230729
Yongsan Game Market
The situation at this market in Yongsan seems to still be holding position. More fences are up, but that one corridor is still open.
20230729
Noryangjin
I asked Bereket, an Ethiopian refugee, to go for a walk with me through Noryangjin, a neighbourhood that had housed a notable refugee and Ethiopian population. It ended up being very enlightening for me, and possibly him as well.
20230728
Roof
Finally workers cleared off much of the detritus on my roof, meaning we can go out there and make use of it again.
20230728
New Bike
After my Besbi's muffler started to break down, I found that it was easier to replace the bike than fix it. I regret it, but I bought a new electric scooter which works fine.
20230429
These photos were taken a few months ago, but the dust has settled and I haven't been Guantanamoed, so I figured I might as well share them now.

Here are a few photos of the kind of housing US Embassy personnel live in.

It's slightly nicer than the other housing compound over by Children's Garden, and the landscaping is a little nicer maybe.

I got pretty lost trying to find my way around inside, although mostly in order to get a look at the scenery. If you're on a scooter, you're never really lost.

Here's a look around South Post, which I inaccurately labeled as Main Post.

You can see quite a lot of the changes here, as they've cut off the southwestern corner with a fence (seen on the right of this photo). Everything on the other side of that fence is Children's Garden, which opened shortly after this visit.

I also got a close look at the statue to Sparky, the mascot of the garrison's fire department. During one different visit, the person driving me around pointed out the statue and remarked on it, calling it by name.

I drove south over that overpass onto Main Post, which was significantly more empty. There was very little happening here, as both the main facilities still active on post are on South Post. Many of the buildings I was familiar with were behind fences, and I don't know if this means they're returned to Korea or just closed. I suspect some of the buildings still have people living in them temporarily, just like they used to on landing in Korea before going out to whichever bases they were assigned to.

Many of the buildings are locked up with warning signs on the front, but I found one that didn't have any such signs and was unlocked. I had to use the washroom, but on getting inside I found out that the building was essentially closed. I used a toilet anyway, and then I went to the roof, where I got an overview of HBC and the kimchi pots exit.

This is a club that was for one of the main branches of the military. At some point it had a Mongolian grill-style restaurant (which is not actually Mongolian).

I had visited this place years ago, back when it was still closed, but we didn't find any open doors at that time. So this was an interesting place to see, probably about as much as I could have hoped to come across considering how secured the buildings are.

I didn't have my speedlight, so some of the pictures suffer from the on-board flash which can't see all the way past the lens hood.

I wandered up in the hills, often a stone's throw away from HBC housing. Most of the area was quiet, but there were still a handful of cars parked around.

I also ran into a Korean couple at one point who were wandering around with as much curiosity as me. They turned out to be from Humphreys though.

I saw one stray cat I managed to photograph. I tried counting the cats I saw, but lost track at some point and can't remember the numbers at all now.

I went as far north as I could to see the military camp up there. It closed down a while ago and there are plans to turn it into a new embassy site. They've fenced it off so you can't get close at all.

It's on the other side a hill, or ridge from Namsan, and it's basically on flat land more connected to my own neighbourhood, so a lot of the buildings in the distance were familiar. That caused a weird feeling I haven't been able to figure out how to describe yet.

Now, finally, having seen a lot of things, I decided to turn around and head back to the party. I kept taking pictures along the way, especially around the overpass.

Another thing that has caught my eye is how when you're driving along one of the main roads on post, often in the distance you can see various notable Korean landmark buildings, higher than everything else around them, in the distance. It's almost like those locations were chosen specifically to dominate the landscape view for Americans on base.

I went into this big hotel, just for a look around and to grab copies of some military publications. The lodge is one of the two remaining poles in the tent.

It's still basically active, with a few restaurants still open as well as its bar.

I've visited a number of times in the past, including for a wedding. To me it's an exclusive, elusive treasure of the local restaurant scene, but for people who have regular access to it, it's less special.

The fate of this building is a little unclear right now, but I suspect it will remain standing and active as it is now for some time. I also kind of hope the restaurants all stay the same, rather than being replaced with some other chains that can be found off post.

The basement has a Pizza Hut and a Subway, which we have all over the place in Korea, but I suspect the food there would taste different. If I had regular access, I'd end up trying both, but if I can only get in once a year, I'll probably always go to Greenstreet or the bar.

I drove around forever trying to find the Japanese prison, one of the sites I was brought to on a previous visit years ago.

It took quite a while, but finally I found it on the far side of Dunjisan. I had somehow thought it was on the northern border of South Post. It's nice driving over that hill, and on the other side, you're confronted by Itaewon and some buildings constructed facing the base, such as Yongsan-gu Office.

The fact that there's this hill right here is very interesting. I suspect if this land hadn't been militarised, it would have been flattened and developed. Hopefully its shape will be preserved after it's returned to Korea.

Time was running out, and my gas tank was nearly empty.

I drove around as the sun was setting, taking photos mainly of things I'd already photographed, but now with extra-dramatic lighting. At one point, I stopped in the middle of the road just before the overpass to get this photo of Namsan, and then a few minutes later the city lights started coming on, so I went back to do it again.

I also photographed this one space just to the west of the main road, where I believe there used to be houses, including Samia's. Later, when visiting Children's Garden, I got in trouble for photographing the same space from the other side.

This is one reason why it's nice to explore this space now, rather than as it falls more into Korean hands.

I also walked around a bit behind the school, being careful not to defy any signs indicating where not to go. The whole time, I knew that this very special journey would soon come to an end.

During my visit, I took a handful of photos on my phone. Many of them were placed in the galleries above, but here are a few that don't appear anywhere else.
20230727
Armistice Day
When we made plans to go on base for lunch, we hadn't remembered that it was the 70th anniversary of the Korean Armistice Agreement. All the festivities were down in Busan but there were signs the party had passed through here.
It was Wonderful to get access to the base again. My previous visit was earlier in the year when it was less overgrown. This time it had a very different vibe. Hoping to be able to get back in more regularly in the future.
I'm likely to declassify my photos from my previous visit, which are intensely thorough and show the state of the garrison, including some naughty places I probably entered at risk of being Guantanamoed.
20230726
Going Home
Just a couple photos from my journey home late at night.
20230726
Downtown
I had to go to Jongno-gu Office, and when I got there, this was all that was left.
20230725
RAS Korea
It was suggested to me that I introduce Bereket, the Ethiopian refugee, to Jeremy, the Peace Corps volunteer who was "Legal Adviser for the Ministry of Land Reform and Administration" of Ethiopia, shortly before the country underwent a massive upheaval in protest of well-meaning land reform policies. After Bereket expressed interest, I emailed Jeremy about it, which got him to choose to attend in person rather than remotely, and the two of them met when I was somewhere else. I remarked around when I took this picture, "Two people who are probably not welcomed in Ethiopia."
Also, the lecture by Steve about his early years in Korea was predictably a home-run. I've been saying for years I'd like to see more lectures like this, and after another potential lecturer apparently ghosted us, he stepped up and filled the gap with this very interesting slide show.
20230722
HBC
I had only a one-day weekend, so I spent it working on future articles, then I went to HBC where I was exposed to 18Fevers' deadly 10% ABV beer. I ended up at the HBC Squat then went home early.
There was a visiting foreign band playing at the Studio HBC that had turned me down for an interview, one of two touring bands to do so this week, so I didn't go to the show.
20230721
With Bereket
Bereket, one of my contributors, invited me to an art talk he was involved with that was part of a larger event in Switzerland. There was a group of people over there who were connected to us remotely, while they showed a short film about Bereket's life in Seoul followed by a Q&A. The room we were in also had a bunch of art on display, although I never really got an explanation of any of it.
20230718
Sky
The rain stopped suddenly in the early evening and then we had this intense cloud effect in the sky.
20230718
Squat
I have to keep this a little secretive now, but I've found an evicted apartment that still has electricity and some possessions left behind. This is where someone fairly well-known in HBC I've written about a lot used to live, so I can't reveal much for now.
20230717
Roof
I've photographed this building before, back when it looked like it was falling apart and there was a tin shack on the roof. Now it looks like everything's been fixed up pretty nice.
20230716
Avenue of Youth
The day before, I drove through downtown to try out a new restaurant. That drive was incredibly frustrating due to a long, thin protest marching along Jongno. During my attempts to find a way around it, I drove past an old movie theater currently being gutted.
I had enough time for a return visit the next day, so I stopped by. Looks like no easy/clean way in, so I might say to this one from a distance.
On the bright side, while wandering back and forth in this area, I got a few interesting candid photos of people in the area. There is more of the Sewoon Sangga-adjacent area set for demolition, so it's probably a good idea to get to know more of these alleys before it's too late.

The Rickety Stairs of Open Songhyeon

Also on the previous day, after I picked up my food, I decided to try getting around the protest by going through Gwanghwamun, which was a mistake because that's where they were gathering. Eventually I just went through Seosomun.
But on the way, I noted that large rickety platform in Yeollin Songhyeon Green Square. Also, I had food I wanted to try, plus it was starting to rain. Fortunately, it was dry the next day, so I stopped by to see the platform for myself.
The whole thing reminded me of giant slides like this, only with no slide. Adding a slide would probably be a significant improvement.
These pictures are taken at a few other stops on the way to Hongdae area, where I stopped by an artists' networking event at DripDrop. On the way there I photographed a few sites. I passed by Tom's Pizza and the nearby Tom's noodles, which by no means is intended to confuse people looking for the pizza place. Maybe someone should film a music video there.
20230714
Itaewon Global Village Center
One of my contributors sent me an article about Itaewon Global Village Center, which casually mentioned that the center opened on July 14, 2008, at which point I realised that this exact day was its 15th anniversary, and nobody in the article was mentioning it.
I decided to stop by the center and met its Filipina director. She gave me a bit more information, specifically why they weren't marking this anniversary and also a bit more about their regular events. It was a pretty good example of an editor realising this is a more significant article than the writer presented.
20230713
Anjeong-ri
I had the day off, so I took the train down to Pyeongtaek to visit the ville. I walked through and took photos of a lot of businesses in the area, hoping to take advantage of the cloudy cover, although for the most part it just makes it look like I tried to photoshop out the sky.
There are a lot of Seoul-familiar businesses down there, and I'll have to do an article on this soon.
20230711
RAS Korea Lecture
We had a lecture about a Chinese classic book I'd never heard of. It was fairly interesting, although I missed the last 20 minutes running around trying to find people.
KOTE seems to continue to be a good venue for RAS Korea events,
20230710
Before the Storm
I woke up early and the sky was a reddish Mars colour. This isn't because of forest fires in my home province, but because of a fierce monsoon storm moving in, which struck minutes after we went back inside.
20230710
Midnight Snack
The cats wanted cat food, so I filled their bowl. They took turns eating, like civilised beasts.
20230710
Phillies Squat
Someone seems to have forgotten to turn off the lights at the former Phillies building. This situation is being monitored, because nobody is known to be living in the building.
20230708
Meejah at ACS
Jamie Finn was putting on a show with the Denmark-based band Meejah, and since he couldn't write about his own event, he passed it to me to cover.
It was pretty interesting so I decided I should see them in person.
20230708
Driving Around
I had nothing to do, but didn't want to stay home all day, so I visited three areas just to check in. Nothing too adventurous happened, due to metal shutters and too many pedestrians.
20230707
HBC
I ordered takeout from the Thai restaurant in Sinheung Market, and it was taking a long time so I drove around the area a bit.
20230706
Itaewon/HBC at Blue Hour
I was doing my paper delivery route, and as I was heading west I saw the most brilliant sunset I'd seen in quite a while. I raced to the nearest roof I could think of, and I guess I either was too late, or the ridge was higher than I thought.
20230705
Sinchon
I passed through Sinchon after a hospital appointment, and was surprised by the number of businesses that seemed to be getting gutted and trashed out. Santa Music with the sign sitting on the trash was especially pitiable.
20230703
The British Spider-Man
After friends alerted me to the presence in the community of George, a freeclimber/base jumper who is stuck in Korea after being caught halfway up Lotte World Tower, I had to meet him. If anyone was going to tell his story in the media, it was best in my hands.
We went through a process of doing an interview a week earlier, and then I invited him to my office on Monday, during which I showed him the (publicly accessible) roof and tried to get a good picture of him. I think I ended up with one good one, and a lot more that show his personality well.
20230703
Central Asia Street
After Fouser's lecture on language use in foreign migrant neighborhoods, I wanted to stop by Gwanghui-dong to look at the signage in the area, as he hadn't mentioned it in his talk. I'm assuming he's seen it and it just wasn't that remarkable or new information.
The most remarkable thing about these signs is that they're in a location very few people would enter the neighbourhood through. I think I have to translate the Korean-language sign, but I doubt it will be a warning to Koreans about crime in the area, as Robert observed on signs in other similar areas.
20230701
Seoul Queer Culture Festival and CTS Awakening
This year, SQCF lost the Seoul Square venue, as the government decided to favour a Christian anti-LGBTQ TV station, because they were having a youth event.
In the end, the Christian event was very poorly attended, and I wouldn't be surprised if it had an older average age than SQCF. But the point is SQCF was pushed out, and the Christians achieved a far-right shift in the Overton window, when the big-picture reality is far less hateful. People will say for the next year that Korea is a conservative country and that sexual minorities aren't welcome, all because a small minority of ageing extremists got their voices amplified.
SQCF in the meantime was held a couple blocks to the east, in a section of road cordoned off. On the bright side, it was nice seeing the festival not being besieged on basically all sides by loud, aggressive Christians.
20230629
Don't Open This Window
This window wasn't supposed to be open, but someone opened it. Somewhere I have a video of the sign fluttering in the breeze.
20230627
Insadong
After the previous RAS Korea was lectured, it felt like a long time since the last one (which was also by Robert Fouser). This time there were a few cosmetic changes at KOTE, and I looked in on the parking area run by the other guy.
20230626
HBC
More pictures from around HBC, although none of them are likely to appear in an article, unless I write one about Coetzer.
20230625
Torture Park
The NYT put out an article about that part of Namsan where they used to do the most/worst torture. A park had been built on the former site of some of this stuff, also where the TBS eFM building used to be back when I did stuff there. They turned the site into a park, but it never got much attention.
The NYT article also didn't seem well-received. A post on r/korea was removed citing community standards or some bullshit.
I went to finally have a look. I'd done a bit of anarchaeology there prior to the park, but since it opened, I always found the indoor facilities locked up. I went on a weekend day and found that it was already closed, having closed at 3pm. So I went back on this day.
It was only one room inside, a room with some signs and a video that plays. You can look over the side into a room underneath, an attempt to recreate a torture room.
20230624
Video Rose at You Kill Bong
There was a show at You Kill Bong, that weird place in Euljiro where you enter a very old, industrial-seeming building, climb a few flights of stairs, then go through a sliding glass door into what seems like someone's living room. On the roof of that place there was a show with some bands and DJs. The very first act was one I wanted to see, so I hit it up early on and then left after.
It didn't help that we were in the middle of a lovebug infestation.
20230624
Driving Around
I went to several various sites around central and northeastern Seoul, including an abandoned hospital and another hospital soon to close, a protest in Myeongdong, and an attempt to visit a torture room.
20230622
HBC
For part 2 on my HBC series, I wanted pictures of Haebang Tower and the 108 Stairs.
20230620
Roads
Here are a few pictures I took while stopped on the road of various signs people were showing off.
20230620
HBC
I decided to return to the building where both of my cats were born in 2005 and 2006. It always has a security guard at the front, but I walked in while he wasn't there and took the stairs up. No roof but there are open walkways outside the apartments. From up there, I could look on post. One of these photos made it into part 3 of my HBC series.
20230618
IT'S A FEST Day 2 Part 1: Beacon, Chain Reaction, and Monkey Gang War
I headed back to Hanagae, and when I arrived by taxi, we pulled up to the beach entrance only to find JP/Octopoulpe looking like he was looking for a way off the island, so I gave him my taxi which made everyone happy.
I arrived during Beacon's set, but very regrettably missed Shin Hantae & Reggae Soul, A Lone Wolf Elegy Club (who gave me the best Broke interview in a couple issues), and TwoFive.
This gallery also includes Chain Reaction, one of the few heavy bands of the festival, which was enough to make them stand out. Also the fact that one of the members prints everything I publish seems not worth ignoring.
This was my first time seeing Monkey Gang War, a fun band put together by a handful of scene veterans, one of those supergroups of the Korean punk scene. I regret missing Dolphin Pants Brothers the previous day who seem to be doing a similar thing.

IT'S A FEST Day 2 Part 2: Green Eyed Monster

Green Eyed Monster is back in Korea.
I wrote about them last time they played here in 2019, and put them in a Broke Christmas issue released at that show, but missed them because I was outside feeling sick.
This time I saw them and was pretty impressed. They were an intense band and the female lead singer was putting all her energy into it.

IT'S A FEST Day 2 Part 3: Crying Nut

Crying Nut was the last band to play the festival. They played their hearts out, and it was clear that people of all ages walking by were slowly realising "Holy crap, this is Crying Nut playing a free show right at this beach I happen to be at this weekend!"
It's become clear to me that a lot of people in the second generation of Korean punk got their start in the 1990s because of Crying Nut (maybe from finding out about similar music overseas and then finding the local variety). When I saw how intensely Sunje of TwoFive was enjoying their set, it especially made sense. By the time of the 2002 World Cup, Crying Nut became basically a household name in Korea. Then of course they had more important things to do: two years of conscription. They're all in their 40s now, and still the most important punk band Korea has produced, plus they're still active and sounding good. They've aged well, better than most bands from the 2000s.
And it can't be repeated enough, it's nice to see them play for free, and be able to get right up close to them.

IT'S A FEST Day 2 Part 4: the escape

Leaving the island can always be a bit tough, although it was mostly low-stress due to not having any urgent medical care to administer. I ended up waiting almost an hour for the local bus, and the two people waiting for me gave up and tried using Kakao Taxi, finally getting one that would be there in 40 minutes. The bus arrived first, but the taxi arrived quicker than announced, and they beat the bus to the airport.
The bridge pictured in this preview image is somewhat new, having been opened in 2019, not too long before the first IAF.
20230617
IT'S A FEST Day 1 Part 1: Green Flame Boys and WinningShot
Finally after four years, IT'S A FEST! returned. Unlike last time, I didn't have the luxury of having enough time to spend at the beach all weekend. I regret missing the bands that played before I arrived, and after I left this day.
This time, I participated as a vendor, operating a table where people could pick up the latest issue of Broke released at the festival. I also had a selection of one copy of every single issue since spring 2005, and after a few inquiries, I've decided that if anyone wants a full set, they can pay 100,000 won (not including any shipping fees).
Getting out there was a bit of a pain, and one that I had to do twice. The elevated train going to Yongyu was out of commission, so we had to try catching buses from the airport. The first day, I waited about 10 minutes while the sign kept saying the right bus was about to arrive, so I just caught a taxi. It cost about 15,000 won, and I tipped to make it 20,000 won, since the guy might end up stuck in traffic without a fare all the way back to the airport. This was only the second time I can remember tipping a taxi driver here (first time was during a snowstorm). Second day, I didn't tip, because right where he dropped me off, I ran into Octopoulpe looking for a taxi.

IT'S A FEST Day 1 Part 2: Polluter

This year's IAF felt a little more eclectic. Maybe not by much -- judging by the number of old-school pogo punks showing up with their families, I'm surprised Jeff didn't book Pogo Attack or SBW Riders, or even Spiky Brats.
It felt like there was slightly more hardcore than last year (but I could just be remembering wrong). Seeing Polluter was fun, and I got a lot of interesting photos. Songyi's red dress at the beach was an interesting, probably uncomfortable, but photogenic choice.

IT'S A FEST Day 1 Part 3: ...Whatever That Means

Of course attention must be paid to ...Whatever That Means, the two key members of which are basically responsible for this whole festival.
Also you can see a lot of pictures of the guy in the banana costume going on a very small crowdsurfing adventure.

IT'S A FEST Day 1 Part 4: End These Days and Social Circuit

End These Days agreed to do an interview with me for Broke, and then completely ghosted me after that. I would never get angry at a band over that, but I would like to find ways to express my disappointment. I considered even asking ChatGPT to answer the questions pretending to be the band, but ultimately decided this would be too disrespectful for a band I don't know well enough.
There are also photos of Social Circuit, and I sort of regret not pursuing them for an interview.

IT'S A FEST Day 1 Part 5: The Water

I walked out to the water, I think partly because I wanted to get my feet wet as they felt dusty. The tide had been in earlier and the waves were a little strong, but once the tide went out it was barren for a long distance. It's pretty amazing to step out and see what it's like being on a tidal flat.

IT'S A FEST Day 1 Part 6: Octopoulpe

The last band I stuck around for was Octopoulpe, who needed to perform when it was dark enough for projections. It was a good thing too, because no sooner than he started did the president of the US contact him asking for help to resolve a global crisis. I didn't stick around long enough to see if he could save the world, but we're all still here, so I guess he did.
Incidentally I wrote an article about Octopoulpe's return and it enraged at least two commenters who called for his banning (I guess from entry to Korea?).
20230616
Hooker Hill
The building housing Stompers has been restored pretty faithfully. The brothels downhill of this, as well as the former Polly's Kettle, are gone. The hotel that backs onto Hooker Hill is closed and may not be long for this world, despite being such a recent construction.
20230615
DripDrop
This is the facade of a cafe in Hongdae I'm writing an article about. It's a work in progress.
20230610
DBGC Pride Month Tour
Drinking Boys and Girls Choir had its latest personnel change, ending up as an all-girl band. I managed to get an interview done with them for the paper, and it will also go into the next zine, due for release this weekend at the next IT'S A FEST!
I also saw Deadbuttons at this show, which seemed like they sort of wanted to keep as a surprise. The band sounds as great as ever.
20230610
Mapo the Classy
I was driving to Copy Salon to print the next issue of Transactions, and while doing some maneuvers to speed up, I passed by this new apartment complex with a very classy name. A few years ago I explored this area quite a few times of course.
20230609
Walking After U
Walking After U played at Studio, so I decided to finally drop by and see them in person. Their music is a bit eclectic, ranging from rock to punk to metal, and they have their own music while also playing some pretty on-the-nose covers.
Two things impress me about this band: when they were playing, they were really into it, showing a lot more activity on the stage than most bands in Korea. Not to say that's a high bar, but they really had this part of the act nailed.
Second, they seem to be the best-travelled Korean band on the domestic tour circuit. They seem to do frequent tours to as many cities as possible, and have followings in a lot of cities across the nation. It seems like the sign of a very good work ethic.
20230608
Itaewon
Just a few scenes around Itaewon and some not from Itaewon.
20230603
Till Death Do Us Party
There's yet another Skunk, this time in Sindang-dong, and it's had a few shows already but this was the first one I was able to get to. I also squeezed an article out of it as well.
Afterwards, I interviewed Jonghee about his fourth live music venue named Skunk, and you'll be able to learn a lot more about that soon.
20230603
Bukchon Hanok Village
Robert Fouser is back in Korea, and did another RAS Korea tour of Bukchon. This one was a bit different from last year's, which had also gone through Ikseon-dong and Seochon. This one was about looking more closely at Hanoks in my former neighbourhood.
There were a lot of interesting people there, including an Ethiopian refugee named Bereket who's involved in this group, and a former coworker of mine who returned to the country to take part in an education program in which she will participate in the construction processes of building a new Hanok.
20230602
Camp Coyner
I never spell this name right, but anyway, it's next to my neighbourhood and it's been sitting abandoned for several years now. I have not made any attempts to enter, but there's nothing stopping me from hitting some nearby rooftops and getting a good look over the wall.
20230601
Porky's
Due to the typhoon in Guam, a former resident of Korea came back here while his business was closed. I stopped by when he played a few songs at Phillies, and unfortunately after that day he didn't respond to my messages. Hopefully it means he got to go home.
20230601
Hospital Trip
While running to the hospital to give tissue samples, I decided to collect a different kind of tissue sample by stopping off at a hot dog shop I'd heard about. The chili dog was pretty good. I also saw this Saemaul-themed door.
20230530
HBC
Looks like Smith Grill, one of the more maligned businesses along the lower drag, has been cleaned out, so I guess it's done for now. I pushed open the door and walked in.
20230530
Helipad Visit
A researcher visited the archive, so afterward I asked her if she was afraid of heights, and she said no. But we found out her limit.
20230529
Hair of the Dog
Hair of the Dog was getting ready to celebrate its eight anniversary, and I decided I needed a decent picture of MJ for an article about it. So I showed up with my camera and a speedlight. She was surprisingly nervous, but I got her into the right headspace simply by ordering a beer.
20230529
Rooftop Cat
The roof is still a mess. I'm not really willing to pick up all these dead branches and bring them through my apartment. Not sure what's going to happen with this.
Anyway, Buster doesn't mind.
20230527
Next Door
They've been building a new structure next door to my place, and it's become higher than my building with the potential to intrude on my privacy. I decided to go inside and see for myself. It's very clearly going to be a commercial building, and I'm not sure how well people there can see through my window but looks like it's time for curtains.
As I was coming down, I ran into what seemed like a worker camped out in the former convenience store next door coming outside to take a piss.
20230526
Parking Garage
This is where I found the kitten, coming out of this box with a can of partially eaten cat food.
Last week, the vet told me she'd been adopted to a good family, so my role in her story is over and hopefully she found the human companionship she needs.
20230526
ADxHD at The Studio HBC
I was kind of caught by surprise that ADxHD was playing at Studio HBC, so I stopped by to get some pictures while I still had my speedlight.
20230526
Vertigos at Club SHARP
Juyoung was back in Korea, this time with her Japanese garage band Vertigos. I was at work that night, but I managed to make enough time to stop by and see her play. I also got this one weird photo.
20230526
Paying Taxes
On the way to and back from the tax office, I took a few photos of sights I saw along the way, including some useful updates on local sites around Yongsan.
20230524
Hilton Interior
Someone posted a photo on Reddit showing the Hilton lobby in what appeared to be a state of possible decay or dismantlement (but with the train set removed and the fountain running), so wanting to see what was really going on, I went back and peered in through a window. I didn't see much, but it was enough to confirm that the train set was still there and this picture must have been taken years earlier.
Plans for the Hilton's demise have been announced.
20230524
Abandoned Buildings
While driving around, I passed by some fairly old buildings behind shutters. I didn't have enough time to stop, but they looked old.
20230523
RAS Korea
Robert Fouser gave a lecture on Hanok preservation, and I got this one picture.
20230522
Haebangchon/Huam-dong
Chris moved to a new apartment further up the hill, and when I tried finding my way home from there, I was presented with this steep street, right upon crossing over from HBC to Huam-dong.
20230520
RAS Korea Jeong-dong Tour
Matt gave his tour of Jeong-dong, and I figured it would be a good chance to brush up on my late 19th century/early 20th century history.
20230519
Yongsan Children's Garden
After news broke that a significant corner of USAG Yongsan was not just returned but also converted into a "children's garden," I showed up hoping to get in. My first attempt, on opening day, I was too early and later found out the opening ceremony would be at 2pm. But with the president in attendance, I probably didn't have a shot.
So I showed up a few days later, only to have the online reservation system explained to me. I was able to use it, only to find out that the next opening wasn't until almost two weeks away.
That was this day. I showed up only to be turned away for a third time, this time because I needed my passport to get in. I raced home, grabbed it, and hurried back, at which point I was allowed access.
Then it was determined that the lens on my camera was too large to get in. It became apparent why this was the case after I walked around a while, as the presidential office was in full view. Though I'm not convinced my lens would have granted me much better views.
The majority of pictures in this gallery were taken by my phone.
20230518
Night
All these photos are from driving around downtown at night, I think over a few days
Buddha's Birthday was coming up, and for whatever reason I had other photos taken at night.
20230513-15
Rescued Kitten
I rescued a kitten from my parking garage. When I first encountered her, she was meowing loudly a lot. There was a cat bed nearby with some dry food and a can of adult cat food, but no sign of a mother and no kitten food. So I went to a nearby vet and got something more age appropriate.
When I returned, the kitten had wandered under an SUV, and then the owner of the SUV came out. He looked displeased with her being there. Also, the kitten showed no interest in the cat food or the water I poured. She stepped directly on the wet food in her attempt to walk toward me.
She was climbing all over my shoe, meowing desperately, so I decided the best thing to do was bring her to the vet. I also left a business card of the vet in the garage in case someone else was taking care of her.
At first I was not 100% sure I did the right thing, but I have a sad memory of a time I didnt act when a kitten came to me crying for help before.
The vet was confident that she would find a family (as would her adopted sister), as calicos are in demand. He was right and she was gone within about a week.
I couldn't commit to a small cat that would need another 20 or so years of my life, especially when I have my own two elderly eggies, the younger of which was about to turn 17.
20230514
Euljiro
At Itaewon the night before, I got to talking with Sarah of Crazy Multiply about the first time we met, at a zine exhibition they ran in Euljiro. She said the place had disappeared, although I had driven by and photographed it in January. I also went in and found that the art spaces seemed to have all closed down, though the building still had some activity at the time.
Anyway, I went by again the day after this conversation to prove her wrong, only to find the whole area blanketed off. I didn't go any closer after encountering an attentive worker wearing a P90 mask.
20230513
Itaewon
I rested on Saturday, skipping the Dumpies show at FF, but got a call around 11 that they'd all gone to Itaewon. One of the members had said in an interview with me that he really wanted to go to a gay bar called Grand Ole Opry, and after I explained to him that it's not at all a gay bar, they all went anyway. So I met up with them. Yes, it's a very straight bar, right in the middle of Hooker Hill, but it seems like the clientele has become less aggressively heterosexual.
20230512
Dumpies at Strange Fruit
The Dumpies had four shows in Seoul, and I attended the first two. Their show at Strange Fruit was opened by Daddy O Radio and headlined by Bulgogidisco, but I got there too late for Daddy O Radio.
The Dumpies once again put on an infectious performance, and surprisingly didn't get quite as naked as the previous show. This time the crowd was different, with older musicians rather than younger skaters. I think this was an ideal venue for them as there was no stage holding them back.
20230511
Stowing Away an S-Train
I booked a train ticket back to Seoul, but while I was waiting on the platform, this cruise train pulled up, heading to the exact same destination. It was almost totally empty, so I decided to hitch a ride, getting me back extra early and in time for stabbing the cat.
This video shows a walkthrough of the train, from the last carriage all the way to the first.
20230511
The Dumpies in Cheonan
The Dumpies came to Korea, and for their first show they went down to Cheonan, where they performed outdoors next to a skatepark next to a lake. It was sort of the wild card of their tour, and I decided I needed to be there, which was a good choice because it was probably the wildest show I've seen in years.
Not without potential controversy, as you will see in these photos. To be honest, in hindsight I'm increasingly unsure how I feel about how things unraveled.
20230510
Family Photo
You can see some of Millie's butt behind my face, in what looks like a very bushy sideburn.
As Buster's 17th birthday approaches, he's been having a relapse of diabetes, which requires an injection every 12 hours. It's brought us closer together, but he does not appreciate the trips to the vet.
He's doing well and I've seen a significant improvement in his health in the few weeks we've been doing this.
20230508
Bucky
After I heard Cave Clan was looking for photos of urban exploring pets, I asked Buster if he knew of any. He told me about his friend Bucky, then went into another room and Bucky came out. We went up and hit a roof, but it wasn't a very long trip.
20230508
Kill Me Heal Me Roof
Someone had posted online about a roof used in a K-drama, so after seeing a lot of people posting that the accessibility was unknown, I went out and tried for myself. I'd actually been up there several years earlier, as I'd used it as a site for watching the Seoul Fireworks Festival.
It is left open, although any graffiti appearing in the show is long gone, and I suspect all of it had been made for the production and removed right after.
20230505
Itaewon
Sue has a surprisingly innate sense of direction. When we were at Noksapyeong Station, she was able to discern that Haebangchon was nearby. She constantly had observations like that, where we would take two routes around to something and she would know where we were.
This day, she went to the Yongsan War Memorial, which seemed to be a bit much for her. We met up after and she recovered over pizza and beer. The view from the pizza place overlooked Dunjisan, a hill inside Yongsan Garrison. I probably shouldn't say more lest I draw suspicion to myself.
After, we went to Gangnam to see a movie, and met up with a gathering of metalheads. Before the movie, I tried visiting an abandoned hotel, but a new fence made it slightly more difficult to enter. Still, had I known how prominently hotels featured in the film, I might have tried harder.
20230504
Hongdae
My Austrian friend Sue continued her visit in Seoul, and I brought her to Hongdae to look around there.
We went to Duriban, first the original location then the new one. After, I brought her to Gopchangjeongol, which was closed while they renovated the washrooms. So we tried going to Strange Fruit, where there was a cover charge to get in because there was a show I couldn't find any information about online. We ended up at Cafe Unplugged which was nice.
20110911
Yongsan History Museum
It's been almost 12 years, and I'm the only one still in Korea, plus the site has reopened as a museum, so I think I can now safely share these photos.
If you go back to my 2011 archives, you'll find a period in mid-September where I was pretty actively meeting other urban explorers who were coming out of the woodwork.
On 20110911, we did some draining, followed by a trip to Yongsan Red-Light District. After that, four of us entered Yongsan Railroad Museum, and after about 40 minutes inside, we were caught by a security guard from an alarm company, and the police were called. They detained us on site for about an hour. The first thing they wanted to do was check how much money was in the wallet of the one female member of our group, thinking she was a sex worker (she was dressed like the opposite of a sex worker). A woman was summoned to the site who was said to be the building owner, or at least represent it. It was the biggest fuss I'd had made after being caught exploring anywhere. We were let go and there were no consequences at all, but it did crush our spirits.
Anyway, I didn't delete the pictures.
20230503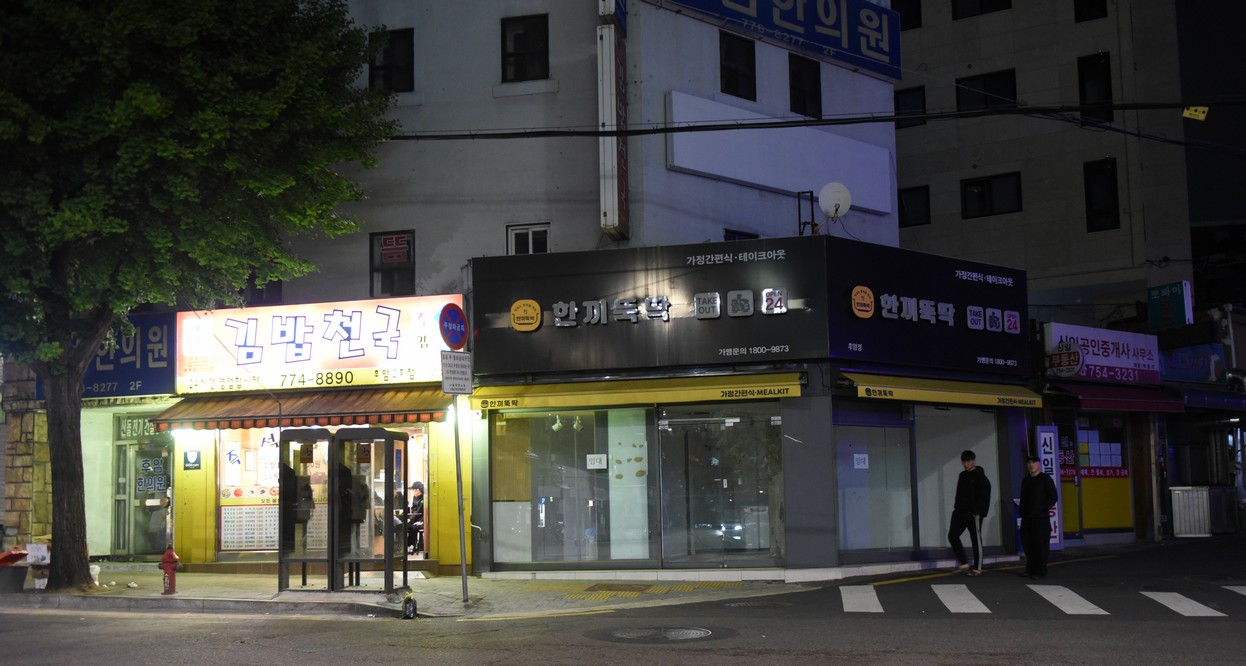 Market Competition
Next to the local Gimbap Cheonguk, a couple years ago appeared another kind of restaurant, where you go in and buy meal kits from what seemed like vending machines. They sold a lot of similar kinds of foods to what you'd find in a Gimbap Cheonguk. It was open 24 hours a day and unmanned. I never tried it, because I got the sense it was the kind of place that was meant to bust local communities, taking away business from restaurants that had been established in the area already.
Anyway, it's gone, and the Gimbap Cheonguk lives on. .
20230502
RAS Korea
We had a lecture from Tatiana Gabroussenko, wife of Andrei Lankov and apparently the original Korean teacher of one of my Russian friends who started studying in the early 1990s.
Afterward, a bunch of us went out to Nuruk Namu, where we decided to sit around one big table out in the alley. If this is the future of RAS Korea, I won't complain.
20230501
International Trespassers' Day
After work, I went out to try my luck visiting two subway lines under construction.
I drove aboveground over one, but found that nothing had been left unlocked. I had scouted this a few days earlier and found that workers were on site late until the evening on weekends, so after this bust on May Day I have doubts I'll get to see much more of this line.
I also went back to a more central area and entered another subway construction site. I've done this a couple times before, and crawled deep down underground to where I could look down into the subway tunnel. The tunnel is huge, and there's no sane way to get from where I can get to into the tunnel. I keep checking hoping they'll build stairs or something, but they never do. On this visit, I was able to witness giant ring-shaped machines that form the concrete surface off the inside of the tunnel.
20230501
May Day Parade
While at work, we could hear a major protest passing by, so at a time dangerously close before deadline, I risked a trip up to the roof to get a few pictures of the procession. I never really got anything that showed the full size of what was happening.
20230430
Rooftop
I'm being visited by a friend from Austria, so I brought her up to the roof for a look around.
20230429
Garage Cat
I've had a couple more encounters with the stray cat that likes to hang out on the hoods of cars in my parking garage.
20230429
Jonnybirds
I stopped by Haebangchon, where I saw Jonnybirds for the second time.
20230429
Jabroni at an Undisclosed Location
I managed to secure an invite to a barbecue event hosted by the US Embassy. More details about what exactly this was will have to wait until a later time. For now I'll just say it was a lot of great food and drinks, all for free, pus Jabroni playing two sets over the afternoon.
20230427
Abandoned Bar
I poked my head inside the construction fence surrounding this evicted bar. The floor was flooded, so I figured I could just go home, grab a pair of rubber boots, and wander around freely. I also grabbed a speedlight so I wouldn't have to deal with that annoying hood shadow.
20230311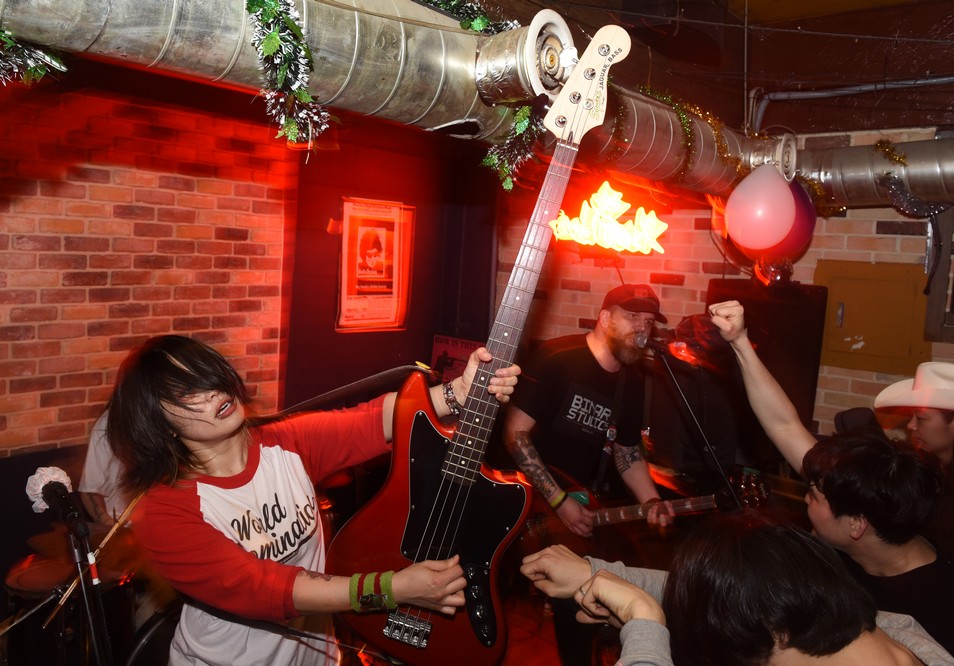 Phillies Show
Whoops, I forgot to post this when it happened.
Here's one final gallery of photos from a Phillies show, not the final one, that was put on by WDI before the closing date was known.
It was probably the best WTM show I've seen in years, mainly due to the venue and the energetic crowd.
20230426
Anarchaeology Update
I checked in on the archaeological excavation in front of Gwanghwamun, to see that some of the train tracks have already been uprooted and removed.
It appears the consensus is "These were put in during the Japanese occupation, so let's get rid of them."
There are still more tracks buried in the area, and I think they might all get uncovered soon.
20230425
New Phillies Basement
This is the basement of the new Phillies location. Kind of low overhead. It sounds like resuming live shows in the basement is not a priority for now. They might reroute pipes like that later to make way, but even then, I'm not that convinced it would be worth it.
20230424
Going Home
I pulled into the parking garage and found this cat sitting on the hood of a car. The thing had a camera running, so if the owners check, they might find hours of this cat licking itself or something.
20230423
Dogma Pop-Up
One of the first events at the new Phillies was a Dogma pop-up. They had a new hot dog I didn't try, instead opting for the sauerkraut dog and the kimchi dog, which was pretty good and came with bacon all over it. I would have this next time, and probably also the chili dog.
20230422
Galaxy Express at The Studio HBC
I showed up in HBC after a long day, and Ryan convinced me to go inside Studio to see Galaxy Express. So I did, and took a few photos of them.
20230420
CU Grand Reopening
Thursday was the night of Phillies' reopening in its new location. Also importantly, it was the reopening of the CU. I brought along some white gloves, some scissors, and ribbons, and we got Chris to do a tape-cutting ceremony.
20230417
Phillies Rooftop
I passed by Phillies the day after it had closed. The back gate was open, so I went up to the top floor for a few of the street from above.
20230416
Phillies' Closing
On the last night of Phillies' original location, they stayed open until midnight, then sang a Backstreet Boys song and chased everyone out into the street for a group photo.
20230415
Phillies Final Show
When this show was planned, it wasn't going to be the final live concert in Phillies, but it ended up becoming that.
20230415
RAS Korea Tour
JiHoon led us around Daehangno area, from the former SNU site to Sungkyunkwan.
20230409
Closed Building
Somehow this post failed to make it in on a previous update. This building has a fairly iconic look, but has had a For Sale sign in the window for a while. It appears they're going to renovate it, but I really hope they don't change the style of the top area.
20230408
Chinese Restaurant
I went to Chang Chang after driving back from Baeksa Village. It was worth it.
20230414
Cats
Just a few photos of cats enjoying doing nothing.
20230413
Construction Fun
Just a couple photos of construction sites near my office. The JTBC building seems like it's due for some pretty major changes.
20230413
Ewha Womans University Market
There used to be a smallish but still pretty vibrant market in front of Ewha Womans University. It specialised mostly in fashion, most of which was for women, but it was a good place to go shopping. When I passed by, I was surprised to see how thoroughly that has been wiped out and replaced with tall buildings. Not sure what kind of character this area will have soon.
20230412
Phillies
After the Phillies article was published, I stopped by to give them copies. It was also a better time of day to try photographing the exterior, so I took a few shots before this scene is gone for good.
20230411
Nice to CU
While the CU is gone, we've been having to find other places to sit.
20230411
RAS Korea Lecture
David A. Mason gave a lecture about shamanism sites at Gyeryongsan. Apparently he may hold the record for the most RAS Korea lectures.
It got a decent crowd, and afterwards we went out for makgeolli.
20230410
Nice to CU
We were caught kind of by surprise when the CU we spend so much time at shut down, seemingly without warning. It'll apparently be gone only for 10 days, during which they'll renovate it.
Still, considering everything happening in the area these days, it's alarming to see.
20230409
Phillies
These pictures are taken on a few dates at Phillies and Hair of the Dog, on my camera and my phone. I needed an exterior shot of Phillies, but I ended up not being patient enough to wait around for blue hour (I did that three days later).
Next time I visited, I met a woman who identified me as the motorcyclist who went by and took pictures of the building, and found out she'd been wondering what that was about. I think I'd be less suspicious if I were a Korean, as there'd be a higher possibility I could be a lawyer or developer or something.
Anyway, it's now known that Philies will be open for the last time on April 16, and there's a picture in this article to show people what it looked like.
20230408
Baeksa Village
I decided to check in on Baeksa Village, one of Seoul's three remaining main moon villages, which I know to be destined for oblivion soon.
It doesnt look too different from my visit last September, although I did have a more thorough look around this time, and ran into a woman from one of the nearby apartment buildings who was coming here to feed the cats.
I don't like to encourage tourism to moon villages, but in this case, it's ripe for a visit and there aren't many residents left to be offended. So it seems worth visiting now.
20230405
Gogi Boys
Here are a few pictures I took at Gogi Boys, the future Phillies.
20230403
Abandoned Market
After going to this market the week before, I went back with a friend who's researching elderly poverty. I guess the ball's in her court now though.
20230402
Hidden Workshop
Another HBC establishment has closed, this one very suddenly. What actually happened is pretty abnormal, and what will eventually be said about what happened will probably not be the full story. But anyway, I was driving along one night and saw an opening in the hoarding. I decided to come back a few hours later after 1am, just in case, and sure enough, it was still open. Lights were on and water was running, though I wasn't able to get properly inside. Who knows, maybe some of these pictures will help settle the problem.
20230402
Busan World Expo 2030
Work has centered around Busan's campaign to host the 2030 World Expo. This week there is a BIE delegation visiting to review the country's suitability, and everything is centered around these people. Personally I think it's weird that the signs have to indicate that Busan is in Korea, especially since the signs are in Korea. Not a sign of confidence.
20230402
Buster
Now that it's warming up, Buster has been looking forward to going outside onto the roof again. Due to all the dismembered tree parts, there's not as much room as before, but he still likes it.
20230329
Gwanghwamun Tracks
While passing through downtown, I stopped to check in on the streetcar tracks. They're uncovered once again, for whatever reason.
These pictures aren't quite as good as before, because they were taken using my regular lens.
20230329
Butt Goats
The butt goats seemed especially intense this year. I didn't pay much attention, but took this picture looking down Yonsei-ro in Sinchon.
20230326
Abandoned Market
After Ryan reported that this old market was surrounded by fences, I went back to see for myself. It was more impressive than I'd been expecting.
20230325
Hair of the Dog
After the Uheeska show, I stopped by Hair of the Dog, where it was Chaeun's 20th birthday.
20230325
Uheeska
What would it look like to have 15 musicians performing all at once, in a small basement venue like Studio? And these aren't choir singers, but a full ska band with brass instruments, combined with traditional Korean musicians who like to move around when they perform.
After having seen Pro Wrestling Society events here, with wrestlers fighting on mats set up on the dancefloor, I figured we could fit Uheeska in here, with audience filtered around them.
This was a big night in Seoul with a lot of big events happening, so I was grateful to get the people out who did come. It was the right size of crowd to watch this band in this particular space. Everyone got to see the band up close, and they used that small space to blow us away.
I came up with the idea of putting on RAS Korea-branded concerts, which will offer music acts worthy of academic attention. The first show spotlighted bands combining modern and gugak traditions, and it looks like any other future ideas I have for doing more of these would be along the same lines.
20230324
Workshop
The Workshop announced on social media on Friday that it was closed suddenly. The actual building was shuttered and empty. They are not happy about this. I'm waiting for further updates.
20230322
Apartment Complex
Apparently this apartment complex, or at least one of the buildings there, had to be evacuated when cracks were found in walls. But it was determined that the cracks were not in load-bearing structures, so everyone got to move back in. We didn't report on it, and apparently residents were afraid of speaking up, for fear of what the attention would do to their housing price.
I'm familiar with this area and had explored the buildings that were there before back in 2013. It's on uneven terrain, and the removal of the previous buildings led to a scare in 2014 after the Sewol sinking, when it was suggested that the deep excavation could threaten the school uphill of the site. By the way, to make it extra unpredictable, there was also deep excavation on the far side of the hill.
Nothing happened that time, but a few years later was the Slumping School incident in Sangdo-dong.
20230321
RAS Korea Business & Culture Club
It's spring now, so I suggested we revive the RAS Korea Business & Culture Club. The group meets on the third (sometimes second) Tuesday of the month during lunch hour somewhere downtown for a historically themed walk or visit somewhere.
This time, we went to Yeollim Songhyeon Green Plaza, a new park that opened late last year after it was too late to schedule a previous walk here. The area is packed with a lot of history, as it has been the site of several doomed ventures. It also has personal significance to me, as the first time I met Jacco, he told me about it and basically challenged me to go inside, something I did about three times over the years.
From there we wandered over to Gwanghwamun to try getting a glimpse of the streetcar tracks, and then on our way back to where we started we passed an old Hanok that has been sitting unused for years. It was a good event, a little more spontaneous than usual, but I think that worked out well this time.
20230318
St. Patrick's Day Festival
I'd never been to the St. Patrick's Day festival at D-Cube City, despite having covered it, so I decided this would be the right time to go, after a few years of not having it. I"m not quite sure how they do it, but they attracted a great deal of people.
I did not go to the afterparty.
Saturday, March 25, 2023
RAS Korea presents Uheeska: pungmul-ska fusion
DATE: Saturday. March 25, 2023. 7:30PM (KST)
DESTINATION: The Studio HBC in Yongsan
COST: 20,000 won; pay at the door
**RSVP is not required.
Uheeska will present an hour-long love performance uniting the music traditions of both Korea and Jamaica. Uheeska is a collaborative band, made up of members of the jazzy ska band Kingston Rudieska and pungmul troupe Uhee Company.
Fusion of traditional Korean music with modern genres has been in vogue in recent years, but Kingston Rudieska is one of the early groups to experiment with gugak fusion. The band began experimenting with pansori in 2005, and its 2014 album features a track with a gayageum. Maybe this is why so many later gugak fusion projects have involved Jamaican genres such as ska, reggae, and dub.
In 2018, Won Il, the music director of the Yeowoorak Festival, matched Kingston Rudieska with Yeonhui Company. The vocalists mix in a combination of traditional Korean "chuimsae," a form of exclamation during music performances to emphasize feelings or influence the rhythm, as well as the Jamaican tradition of "toasting," which is almost the same thing, just with a more Jamaican vocabulary.
Uheeska has mostly played at traditional music and world music festivals, and has also toured overseas to Australia last year. This will be a rare opportunity to see them up close and personal in a small-scale live music venue, and their first time playing a show in Haebangchon, one of Seoul's foreign neighbourhoods.
Read more about Uheeska here.
Read more about the opening act, LAproviko, here.
20230317
Inflatable Guy
Just a sight I saw as I drove past a construction site.
I have documented construction mannequins fairly often in the past, as well as those big inflatable columns used to advertise clubs or restaurants or whatever, especially when they go limp, but here's my first time seeing this particular combination.
20230315
Boxes
Cats love boxes.
I got a couple pictures of both cats sitting in boxes, about a meter apart, seemingly at peace with each other for once.
After about 16 years, it's been tense pretty often, even if they both are happier for living together. And they both like boxes, even if they each have their own different unique ways of appreciating boxes.
These are just a couple pictures of the Gwanghwamun anarchaeology site, taken on a revisit with a tripod. The conditions all worked out for this visit, although shortly after that the tracks were covered up again with tarps.
20230314
Gwanghwamun Anarchaeology
I returned to Gwanghwamun at two optimal times: late at night, and during lunch hour, and got a better look at the ruins uncovered by the archaeological survey.
After last visit, the tracks were uncovered, which I had been expecting as the city had been offering free tours to the first lucky few people who signed up online, out of the thousands who attempted to do so.
I guess a central tenet of anarchaeology has become a rejection of this method of exposing these sites to the public through this first-come-first-served registration process.
While coming back after the Gwanghwamun visit, I took a shortcut I know through Hoehyeon-dong. Not sure if it's a shortcut, but it takes me by a couple sites I'm keeping an eye on.
As I passed through, I saw a real estate office that had a couple images of what they hope Itaewon area and its southern neighbours such as Bogwang-dong and Hannam-dong will look like in the future.
I kind of suspect these images are already outdated, without being quite able to express how. Note that this first image previewed here still shows Seoul Grand Hyatt as well as the Hamilton. I think it also shows Hannam Village, long since demolished.
But yeah, anyway, fuck the poors, and fuck all the small communities they create. If you build a wealthy community south of Itaewon, you don't want their kids to be walking north past places like Hooker Hill, Homo Hill, and Halal Hill.
A few years ago, RAS Korea lectures were held at the Somerset Palace, but that venue already started to dry up before the pandemic.
During the pandemic, lectures moved online, which meant we could have lecturers speak from outside the country, even outside Seoul. It also meant spectators could join us from further away as well.
Last year, I think around June, we moved to hybrid lectures, in which there would be a live audience, plus online audience, and the lecturer could be with us in person or beamed in from afar. Those lectures were held in a small room in the ground floor of the Christian Building, which has housed the RAS Korea office for the past several decades. But that space had a cap, as it can only fit so many people, and made everyone feel like they were in a terrarium. Also it's not in a great part of town, and when we went out for drinks after, we'd have to walk quite a while down some dark, seedy alleys, and could never be too sure which place would take us in.
Then I suggested we move lectures to KOTE, and after a few months of negotiation, it worked out.
Our first lecture was by longtime RAS member Jeremy Seligson, and it was better than I expected, as we got to hear some very real thoughts from this guy, who I learned had been Peace Corps Volunteer in Ethiopia in the 1960s and whose land reform policy suggestions led directly to the downfall of Emperor Selassie.
The lecture venue was perfect, as I think you can see in these photos. And it will only get better as the weather improves. The space was comfortably spacious, and the temperature was fine.
Afterwards, rather than having to wrangle people, we just walked a few paces up the alley to Joseon Salon, where everyone was happy to keep their spending within the KOTE family. This actually resulted in more people hanging around after the lecture, with our post-lecture group outnumbering those of previous lectures that had more attendance.
RAS Korea needs money to survive into the future, and it also needs to stay relevant. KOTE has a limited lifespan remaining, but I'm hoping that RAS Korea's relationship will help extend or at least improve the quality of the time remaining. KOTE gives the society not just a better venue, but also an improved shot at relevance. While RAS Korea may have a missionary history that may be relevant to its presence in the Christian Building, KOTE also has its own history connected with missionaries, as well as Samil independence activists, plus the KOTE struggle begun in November 2021.
I came up with the term "RAS After Dark" some time ago, and it became official in my contribution to Transactions 96 last year. Now, after every lecture, RAS Korea President Steve Shields tells people to stick around for "RAS After Dark."
Obviously RAS After Dark is about networking and drinking, but another important component is it brings mad science to the social sciences. Do the disciplines of Korean studies, history, and anthropology have their own versions of mad scientists? Click to find out.
20230311
Camp Howze
I went back to Camp Howze for the first time since before the pandemic.
Actually I may have attempted it once during the pandemic, but the front gate was closed at that time.Now it seems to be open pretty often, until fairly late.
I also noticed some of the buildings seemed like they were getting fixed up, with smashed windows removed and new glass put in.
This gallery focuses on things that are high up on the hill, mainly the barracks buildings, the helipad (which is more of a flattened field), and the water silo or whatever it is. Also, the mess hall which is most of the way on the other side of the slope.
I'd heard one of the barracks buildings was to be converted into a hostel for adoptees returning to Korea to stay, but there doesn't seem to be any notable progress on that. One of the barracks buildings has been stripped down to bare concrete, so maybe that's progress?
On a previous visit, I took a helmet cam video and drove into the mess hall; this time I did the same thing, but it wasn't quite as interesting considering the state of the building.
One of the sites I intended to visit was Paju Omma Poom Park, which is hidden all the way over the hill, near the back gate which always seems to be locked.
I consider this to be basically dedicated to comfort women, albeit the ones serving the US military rather than Japanese. The fact that this would be put in here on a former USFK installation seems to indicate that was the idea.
They wanted it to be a message for adoptees, but the message seems to be hinting at the unfair situation in which this sort of industry crops up, resulting in unwanted births adopted away overseas.
There's some basis to that message of course, but maybe it's a little too in your face for what they wanted to pull off.
This set of pictures focuses on the former gym, as well as the sports field way out at the northernmost motor pool, plus some of the buildings high up on this other part of the hill.
The gym is an odd building, and on my previous visits I found it filled with a filming set. On my last successful visit, we found a set where they recreated the North Korean embassy in Spain in order to reenact an attack that happened there. Especially odd as the visit came no more than a month later than the attack. This time, it has been turned into what appears to be a performance hall, possibly one intended to be high-capacity.
I saw a gate left open that I'd never tried before.
Most of the gates around here can be unlatched, as there is no locking mechanism attached, but I don't like to take that kind of risk anyway.
As I drove up, I found a dirt road that got increasingly rough. Once I got over the shoulder of the mountain, I found myself in an area with a pretty extensive bunker system.
I drove a little further, finding it difficult to stay in the ruts left by trucks, and then I discovered I would have to turn around and go back out the way I came in.

Buildings I'd Never Seen Before

Before I left, I decided I might as well try to get to some of the buildings I'd never made it to before.
There was a cluster of smaller buildings, two of which may have been single-occupancy houses, maybe for base leaders, and further past that were a couple other smallish barracks buildings.
Getting through the brush was rough, and definitely could not be attempted in a warmer season once the brush grew back, and brought with it spiders.

The Ville

Whenever I visit Camp Howze, I make sure to pay particular attention to the ville, that area out front where soldiers used to go for fun, at least if they didn't want to make the voyage all the way out to Itaewon.
There are still quite a lot of nightclubs, and I saw one that actually seemed to be open on this visit. The others I imagine are collecting dust.
If you leave the main drags, you find a network of narrow alleys where the locals lived (and continue to live). It's an elderly area now, and probably all young people have long since moved on.
I went to this area a few weeks earlier, and couldn't really get closer. As I'd been leaving last time, I thought I saw a way in, but when I tried it this time, it didn't bring me anywhere that interesting.
20230308
Reunion
I was about to leave Hair of the Dog when a bunch of friends who lived here in the 2000s came in. It was one of those nights.
20230307
Gwanghwamun Anarchaeology
Almost a year ago, I stopped by Gwanghwamun to photograph the haechis out front. It was notable that there was a little elevation running parallel to the palace wall. Most people walked on top of it, but some stayed on the more plain sidewalk right next to the wall.
For the ongoing renovation of the area, some of this elevated area has been dug up as part of the legally required routine archaeological survey, and they have uncovered...train tracks. They're for the old streetcar system, discontinued in 1968, but who knows when this particular section disappeared. I'm still a little unclear about where exactly the Governor General building used to be; presumably right behind the tracks, where Gwanghwamun is now.
The tracks are covered, but tours of the site are offered to the first few people to sign up online, and for that they'll have to uncover everything, which is when I'll be able to get a look.
20230304
Holy Moly at The Studio HBC
I stopped by HBC, where there were a lot of people at the latest Holy Moly show. Christmas went into Photo Heim to get some pictures made, which was probably the highlight of the night for me. Also, Pop Ents gave me a copy of their zine, "How to Win at Life & Unfuck Yourself."
20230304
KOTE Potluck Festival
I showed up at KOTE on Saturday to do my Pimatgol tour. It was a little too early in the day, and most of the people I thought would join were having lunch at the time.
20230301
Visit from Daryl
Way back in 1997 when I was at my high school graduation commencement, I turned on my walkman and found CJSR, which was playing a boogie show at the time. It was something I never heard before, and can't really explain now. As soon as I entered university, one of my first stops was at CJSR, where I ended up becoming an on-air DJ. The program manager who helped me all along the way was Daryl, who has long since left the station as well.
Daryl was on a vacation mainly to Vietnam, but stopped by Korea for two nights on the way back to Canada. I offered to take the day off so I could meet up and show him around. We ended up walking from Dongdaemun all the way to Gwanghwamun, and then ending up at KOTE where a big art festival was starting.
It was March 1, a national holiday, which came up a few times along our wanderings. There was also a massive conservative rally that day too.
20230226
DGBS
I saw that DGBS, the former site where Park Jong-chul was tortured to death in 1987, is undergoing heavy renovations. It appears they're going to preserve the main building, while also constructing another big thing that might be a museum.
While there, I also had a closer look at the building I call the "bunker," where I worked in a satellite newsroom for a few months early in the pandemic. The building is closed up now and probably slated for demolition.
20230225
Spiky Brats 2.0
Spiky Brats has reformed, but with a different lineup. The band last played, it seems, at the Korea-Japan Oi Festival in 2011, and since then the members have changed drastically. Gone is Jaeseok and his distinct Donald-Duck vocals. The only two non-new members appear to be Byungsun and Jonghee. Byungjin and Dorothy seem to be suitable new members, but without Jaeseok I wonder if it's still Spiky Brats.
It was a first show so I'll withhold judgement.
The venue was a bar that apparently had been run by Jonghee until right around now. When I walked in, it was a bright room with white floor, walls, and ceiling. During Spiky Brats' encore, the main lights turned off, and it became the perfect environment to try out the speedlight I'd borrowed from work.
It was great seeing Cockrasher again. I think they've been more or less active over the decades, playing songs which are the majority if not all from the old days.
They were the best band of the night.
And Seung-han never once tried to break my camera this time. Though maybe he will after seeing these pictures.
Pogo Attack had a decent set other than an early problem with the bass.
For this show, Edaeng came with his wife Sharon, who I hadn't seen in ages, as well as their daughter Bia, who dressed the part but I couldn't tell if she really enjoyed the music.
Sharon got what appeared to be an unpleasant surprise at the end when they covered her old band Couch, and she could hardly hide her displeasure.
This show seemed to have been put on entirely by Bovver, as one last-last show before he moves back to Japan (and takes Oily Rag with him for one final show [until the next one]). It was also a birthday show for Jennifer of Lucy Valentine, who I found out were playing right at the very end.
Oh yeah, also Bovver cut himself afterwards.
20230224
Abandoned Buildings
I was in a hurry to get to the print shop, but had to slow down a bit when passing by some abandoned buildings I hadn't seen before. One had an unusual round roof style that's possibly Japanese-designed.
On a follow-up run to the print shop, I found a potential way in, so maybe there'll be an update soon.
I ran into my former boss from 2015 a few days earlier, and he invited me to see his band play. Formerly called the Beagles, they've since moved a bit away from being a Beatles tribute band and renamed themselves Jabroni, playing songs from various bands, including Pink Floyd and Coldplay.
The show was at The Beatles, a basement venue right across the street from that Hyundai venue near Hangangjin Station. Entry was free, but everything on the menu was heavily priced. The sound system and the lighting was high-quality, however.
20230218
Subway Tunnel
I went back to this subway tunnel under construction, after visiting sometime last year. It's still unbelieveably easy to enter. This was my third visit, and this time I made a new personal first: I crossed the river underneath. I walked about 2.5 kilometers in total, then I turned around and headed back to my original entry point. I know there's an exit on the other side, and I passed by another along the way, but I decided it was better not to risk emerging in an unfamiliar site.
20230217
Reseters at Jebi Dabang
I stopped by Jebi Dabang to talk to some people about a show I'm planning to put on next month. More to be announced soon.
20230214
Abandoned Wedding Hall
After the RAS Korea lecture on the Korean military, Anna and I visited the abandoned wedding hall. It's still in the exact same condition as before, the front all fenced off and locked up, but still way too easy to get in.
20230211
Uchi Zoo Park
My weekend plans sort of fell into place after last weekend's actions, after I found out that Hosooni was supposed to be moved to a zoo in Gwangju. I had already been thinking of visiting Gwangju for a local punk show, but the cards really fell into place when I realised that this was also the zoo that Moon Jae-in's dogs were moved to.
Our visit was inconclusive. Prior to the visit, we'd heard bad things about conditions here, but the quality of captivity was uneven across enclosures. The only sign of possibly making an enclosure for Hosooni was hard to confirm, as the space was much smaller than her current one, and it doesn't seem like much work has been done to even make it look more like the other tiger enclosures. So...are they really ready to take on an adult tiger, who I believe is larger than their other big cats, in a timely fashion?
Additionally, we were able to find the Pungsan dog enclosures, which were primitive, but it seems like the dogs don't spend much time caged up at least.
I was brought all the way over to an abandoned prison, which can be read about most reliably at Gwangju News.
Getting in is kind of a crapshoot, as it takes lucky timing as well as some skill.
While walking through the grounds, we disturbed an animal that seemed to be some kind of large deer. It pranced away through the brush in a way that was very unlike a wild boar. Its scat seemed a little more doglike. We didn't get enough of a look to know more, and we couldn't find it after this initial encounter, as it was able to lose us in this complex prison system. Whether it's still in there, I couldn't guess.
I'd seen posters online for a show in Gwangju that featured three local bands, plus three others from Seoul and one more that turned out to be from Cheongju.
A month earlier I had published an article with Gwangju News about Dirty Rockhon, one of the bands playing, and this was my first time seeing them. Also playing was Monkey Pee Quartet, which I covered way back in January 2020. The other Gwangju band, TwoFive, I'm planning to cover next, but unfortunately we arrived just after they finished playing.
It was an excellent show, with all bands playing extremely well, and left me feeling a little more refreshed about live music than I'd been feeling the last few months.
20230210
Abandoned Hostel
I passed by this abandoned hostel on the way to the print shop. Seems like the sort of thing I probably won't get another chance to look into in time.
20230208
Kyungrokjeol
The birthday party of Crying Nut's bassist Kyungrok is continuing, getting a little more ostentatious every year. It's basically a full music festival, except everything's free. It's at risk of pushing Zandari Festa aside as the most important annual event in Hongdae.
I showed up at the opening night, where Crying Nut was set to be the very first band to play. They were the only band I was there to see.
20230204
Lonely Tiger
After one of my friends shared this video, I booked a train ticket to Ulsan to see the tiger for myself.
Fantasia is probably the largest abandoned amusement park I've ever visited, likely by a significant margin. It would have been an enjoyable day, and worth it to pay for the train tickets to come all the way down here for a day of taking pictures. But visiting a tiger living in the closed zoo gave this trip a decidedly different bent.
I was expecting something worse after seeing the video, but on a warm, sunny day, the tiger seemed mostly fine. Healthy, well-fed, mostly clean. Maybe mentally understimulated though.
Back in Seoul, I later was able to put out this article with help from a reporter.
While I was down in Ulsan, I met up with Jason, one of those guys I've been networked with for probably more than a decade, but still had never met in person.
He was nice enough to chauffeur me around. We visited a parking lot with a structure being prepared for burning down the next day during Daeboreum.
He brought me to Yeongnam Alps, which is the actual name for the very un-Alps-like mountain range here. There's one area that has a lot of chintzy love motels, and maybe almost half of them are closed down.
I went to the washroom in the KTX on the way back to Seoul, and decided to get a picture of my tiger shirt. It took a couple tries to get it right.
I bought my first tiger shirt several years ago, and had matching shirts with another explorer. That one got torn on a fence when we were fleeing security in the Nightmare Lab, so I bought a second one at some point.
I wonder if the tiger ever noticed my shirt.
I got back to Seoul while Holy Moly was still happening in The Studio HBC. All I did was sit out front. At one point, some of the members of Billy Carter came by, and I hoped to get a group shot of them. It never quite worked out though.
20230202
Cats
These pictures come from the couple days before I was to set out to Yangsan in search of a tiger. The cats tried to help me prepare while I was rounding up supplies.
20230130

Itaewon at Lunch
I decided to stop by Itaewon once again, to take pictures for an article about the Let There Be Love, Itaewon music fest.

Next, I went by the memorial that's still over by the triangular park near Noksapyeong Station. Probably a lot of people go by that one thinking it's just a COVID-19 testing site. Although it does have a great deal of far-right banners hung up around it. I heard apparently a nearby business owner calls the cops every day who come and remove them, and then the banners are put back up again that night.
20230129

Banpo Apartments
I didn't have plans to do anything, so I went out to Banpo. The apartment complexes there are almost all totaled now. I didn't see any easy ways past any of the fences, as well. Not that I looked everywhere, though it seems like there's little point now.
20230128

Binary Studios
I haven't actually been to Binary Studios yet, so I decided back when I wrote this article that I would go to this show. I'm not a fan of studio space shows, but I still had to check it off my list.

Also I was looking forward to seeing Chain Reaction, but apparently one of their members came down with COVID-19.

It's not a great place for taking pictures, so I didn't get many.

Also, when we went to the restaurant after, I found out that they had taped up the cover of my zine on the front counter. One issue later, I had a feature about afterparty places, and reviewed this place positively, noting the guy even showed an interest in my zine.
2023123
Anarchaeology
After walking by this site with Jericho earlier in the month, I decided to have a closer look, and I found a very easy entry point around the corner from where we'd been looking. I got in with no trouble.
The watch market is going to be the site of a fairly large and probably long archaeological survey, as there's probably a lot of stuff to sift through down there.
The alleyways of the area are ancient, and some of them were built over water. I found traces of that as I walked around.
The final plan for this site is a large building that will preserve the alley courses on the ground floor.
I was eyeing these new buildings along Cheonggyecheon. But when I went by, I found workers still on site, even though it was the biggest holiday of the year and it was after 6.
20230121
Train Station
My first goal for the holiday was to go back to the train station. It turned out my usual entry point had been cut off, as the staircase down from the entrance had been removed. So I entered, got to the top of the stairs, and then saw there was nothing below me except a two-storey fall onto new concrete.
The way down to the tunnel was unpleasant, as the passageway is filled with metal bars that are probably part of some process to form concrete structures or something.
I didn't start taking pictures until I was at the bottom, so this gallery is sort of in reverse, documenting my exhausting struggle out.
I went back to Burning Sun in the daytime, after confirming that, yes, it seems to have just been left alone for a long time.
As well as seeing the nightclub again, I walked up to the top floor of the smaller tower, then looked around the lobby more.
It's a good site to visit, based on how easy it is to access, but it's too bad that the whole place is so gutted.
In one area, I saw what looked like a giant rabbit in the distance. When I got closer, I confirmed that, yes, it was a giant rabbit for no reason.
It should have been a black rabbit for this year though.
As I was leaving the hotel, I saw a number of sex cards scattered on the ground.
Most of these seemed to be for clubs where men pay to look at women wearing some amount of clothing, and they can do a lot of things that don't involve undressing the women.
I used to see more of these cards around, but not anymore for whatever reason, probably changing areas of town where I go. I recall once in Hongdae seeing cards for the kissing room being scattered by a guy on a scooter.
An extra indignity is that the models for these things always seem to be Japanese models. But maybe that also protects the privacy of the actual sex workers here.

Roof Guns
We went up to a couple roofs, one being an obvious one, and the other being something new. To get up to the helipad, we had to go through this one big open room that was two storeys high and sort of cube-shaped.
From the roof there, we looked over and saw the building's twin, which had a similar cube-sized room, except this one had the light on. And on top, there was something black we couldn't quite fully make out. So I raised the film speed and took a picture as we were leaving. Later, I was able to blow it up to confirm that, yes, there are anti-aircraft cannons on that roof.
20230117
Burning Sun
What's the most despicable location you've ever explored? I think I likely set a record with this one, as I was tipped off that the hotel housing Burning Sun was closed down a couple years ago. Thinking it was too late to see, I stopped by on a Sunday night, only to find everything left wide open, with nobody else in sight.
20230117
I.Animation.U
It won't be long now until the I.Seoul.U slogan fades into history. In fact, vote on it here (Korean) and here (English). My vote's for "Make it Happen Seoul," because I like the idea of Captain Picard saying "Make it Seoul."
Anyway, I drove past the former animation museum site, which now bears "I.Animation.U." Shouldn't it at least be "I.Animate.U"?
20230114
Jericho
I walked around downtown Seoul with Jericho for an afternoon, visiting Euljiro and Sewoon Sangga. After that, we went to Itaewon, which she had never seen before, and walked through Hooker Hill and the disaster alley.
20230113
Foggy Downtown
After several days of heavy dust warnings, a light rain hit the city, engulfing everything in a healthy mist.
While waiting to meet two visiting friends, I looked around a bit in downtown Seoul and got on a couple roofs.
I returned to this abandoned building, which houses a shaman or Buddhist shrine, a goshiwon, a PC room, and a few miscellaneous ground-floor businesses.
It's a good UE destination because it's convenient, but entry is just challenging enough -- in both skill requirement, danger, and risk of being caught -- that not anyone can just go in. Most people would probably back out in fear.
We stopped by Noryangjin Station, where a friendly cat greeted me right at the turnstiles. I followed the cat around a bit, and discovered he's friendly but there's one single way he doesn't like to be touched.
Apparently his name is Yeokjeoni and he's pretty well-known to the people frequenting the station.
That includes the fish market evictees, who are still occupying the overpass that once led to the now-demolished former market, long since replaced with sports fields.
We had pretty good timing with this abandoned neighbourhood visit. Alley entrances around the perimeter have been fenced off, but many of the buildings inside remain sealed, with doors and windows intact and with a fair number of those police warning stickers, something I'm not generally comfortable with openly defying. We found a few good places, including a couple roofs where we could observe darkness fall over the city, revealing how much of our surroundings were abandoned.
20230110

Abandoned Wedding Hall
Before an RAS Korea lecture, I eloped with Jenn and Ryan to an abandoned wedding hall nearby. We came back a little late and nobody even knew we were now married, not even Jenn and Ryan's spouses.
20230108

Gwanghwamun
Jericho's back, for the first time since the very beginning of 2018.

We walked through Gwanghwamun and saw the lit-up lanterns, including the 2023 rabbit and a despised wheelchair user. I didn't get a single picture of her.
20230107

Hipjiro
My last stop of the day was in "Hipjiro," the name I'm going to use for Nogari Golmok, now that the bad guys have won and forced the good guys out.

There is a great deal of metal-shutter hoarding up around many buildings in the area, and it seems like it'll have to be wiped out now. That's not so sad because the alley has become a monopoly.

At one point, I was driving away and I stopped to take a picture, and by pivoting to take the picture, I hurt an abdominal muscle that seems to be located somewhere around my diaphragm. It caused a sudden horrible pain that repeated about five times on my drive home. If I hadn't had a heart attack already, I would have assumed this was a heart attack and I was about to die, from my heart bursting. Stupid organs.

Abandoned Wedding Hall and Motel
Ryan reported that a fairly prominent wedding hall was closed down, so I went in for a look. I had last been here in 2016 for a punk wedding, during which I explored around the upper levels while tragically missing a Billy Carter performance.
Anyway, this time I didn't have a chance to see Billy Carter play, but I did get to see a lot of the building, plus the motel next door.

Hotel on Vacation
The other night, I had been driving home when I caught wind of this one hotel that seemed to be all closed down. I came back for a closer look, and found signs declaring it's on holiday. Also, on the front side there's a BK and a cafe, so it's not totally gone yet. Curious to keep an eye on it.
20230105

Burger Place
I was trying and failing to get a prescription filled at a Severance-adjacent pharmacy, so I stopped by a burger shop I found on Shuttle that looked promising. The guy misunderstood my order for a chili dog as chili fries, so out of guilt he gave me a free order of chili fries. So if you are bad at speaking, go to this place and you'll get a lot of free stuff. Plus their food that I tried, which ended up including a burger, hot dog, and fries, was pretty good.

It's at a mini-mall built out of cargo containers near Ewha Womans University, right at the same site I remember seeing a few punk bands play in about 2004 or 2005.
20230103

Brother Anthony's birthday
I got my first invite to a Brother Anthony birthday since he was in his 70s. Anyway he hasn't changed much since then, despite surrendering his RAS Korea presidency. He took us to a restaurant, then a tea house, then a brewpub. Also I had a look at a cop shop that seems to be about to meet its maker.

Brother Anthony shares his birthday with two other guys, poet Jeong Ho-seung who he has translated a lot, and a professor whose name was saved in my phone until right when I went to write this.
20230101

Hilto Hotel
One day after its closure, the Hilto is becoming a fortress. Also they took down the rest of the name.
2022 Smartphone Photos
Smartphone Pictures 1
It was a pretty adventurous year. Here is the latest photo dump of pictures taken on my smartphone.
We'll start with a picture that signals the times we're in: drinking in a bar with the lights off after curfew.
This gallery also has some other views of things I otherwise documented on this site at the time, including the conflict at KOTE and partying at Turn Lounge before its demolition. Plus there are images from an anti-drug book I found at work.
The pictures for the first gallery seem to run into April.
Gallery 2 runs from April until July 16, during Seoul Queer Culture Festival.
You can see Buster wearing a hat, and then celebrating his 16th birthday. There are more pictures of drinking, and of the cats.
I used my smartphone to take pictures of Joey at Dice Latte, mainly because I thought it would be easier, and I was probably right.
There are also a few pictures from when I saw what appeared to be a horrific traffic accident, and then on driving past it became clear it was a film set. I never was able to figure out what they were filming.
It was also during this period when I started experimenting with Corn Flakes foods being sold in convenience stores, and you can see a picture of the only one I didn't try, the salad.

Smartphone Pictures 3: 13 Steps

There was a heavy rain during the parade at SQCF; it stopped right around when the parade started moving, and it ended right around when it finished. I tried to keep out of the rain, but my camera started acting up and wouldn't work properly. I ended up having to take it in for repairs.
That night I went to see 13 Steps at ACS, a venue I'd never heard of in Euljiro. There were other bands, but without a working camera, I didn't feel motivated to push forward to the front of the crowd to see the bands, except for when 13 Steps played.
Also at this show, Victor had a table set up to sell kendamas, plus get rid of his old CD collection. I got a lot of rare old GMC stuff that would probably be hard to find anywhere else.

Smartphone Pictures 4: North Korean Postcards

I bought a bundle of postcards during my 2018 visit to North Korea.
I was especially interested in the ones showing a North Korean space program, plus North Korea winning the World Cup.
I never did mail them out to anyone, and I don't think I'd risk it from the South.
Maybe someday...
The pictures in this gallery are mostly from July, up until right before I left for vacation in Canada.
There are pictures of several zines, plus a few from the night of the Broke 15th anniversary show on July 29. Because I had priced the show at 6,000 won for entry, I started saving up small bills for weeks in advance. I made it up to 110,000 won in 1,000 and 5,000 bills, and when I took them all out for the float, my wallet nearly fell apart. It doesn't feel right anymore, if it isn't stuffed with money.
These pictures follow me from Korea to Canada and back again, to find Korea had flooded in my absence.
I made ample use of my camera, so the only times I was using my phone during the trip were random things when I didn't want to drag out my camera.
There are lots of pictures of my parents' hostile cats, plus a lot of pictures of the sky at various times in the evening.
This gallery is a bit smaller, mainly because it seems like I did a bunch of post-vacation pictures, then set it aside, and when I got back to editing these, I created the eighth gallery.
All these photos seem to be from late August.
These photos run from Zandari Festa in September through to early November when I started photographing Pepero Day displays.
You can see the skateboard I found in the garbage somewhere, plus a lot of pictures taken around the neighbourhood.
A lot of times I take phone pictures for instructive reasons. There are a lot to show people where I am and how to get there, which explains why there are so many at bars. That led to some odd ones in this gallery, as we drank in some weird new places. In one other case in this gallery, I photographed two flavours of potato chips from Canada, in order to get my coworkers to vote on which to try next.
There's nothing related to the Itaewon disaster, as I'd already processed those images and included them in with my regular camera stuff.
The final gallery is filled with all sorts of things, showing a lot of things around HBC as well as the office plus RAS Korea. I took a lot more photos on my phone than my camera of the RAS Korea book sale, and I also photographed some odd mail we got at work. There are a lot of pictures at Phillies, which was supposed to close at the end of the year, plus a few of Gogi Boys where it will probably move to.
Pictures from the Moses Thanskgiving this year appear here as well, plus a cosmetics trade show and some more views around Songdo. There's one notable photo I took on my smartphone to send to people after I'd been left behind in a venue in Cheongju.
I also have a few photos in here of the time I had to chew my arm off in order to get away from my cats. Plus, Chris got new teeth. And there are more pictures from my last visit to the Hilto penthouse, looking mainly at the small objects left on display all over the place.
New Year 2023

New Year
I started taking pictures around midnight on January 1. I went to Phillies for what was originally expected to be their final night, although the place is still running.
31 December 2022

Hilto
I swung by the Hilto, to see a force of workers at the front door ensuring that none of the many visitors out front came back inside. Then I went further up the hill to a point where I could see the whole building, and saw how they're taking care of the sign.
31 December 2022

Another Abandoned Neighbourhood
The last stop on my journey south of the river was an abandoned neighbourhood that was a little too fresh, not quite ripe enough for exploring. This is a considerably smaller gallery than the others.
31 December 2022

Mural Village
I visited this mural village a while ago, but didn't prioritise it because I was unable to get inside any buildings. I stopped by again, to discover most of the area had been ripped apart. Squeezing under the curtain, I got a final look at some of the murals in the area, and found some timely images taken from Sugungga, the tale of the rabbit lured to the Dragon King's underwater domain who tricked his way out and escaped having his organs harvested. Hopefully a good sign for 2023, the Year of the Water Rabbit.
31 December 2022

New Town
I had several locations to check out, but I decided to drive out to the farthest one first and work my way back, rather than moving outward, because otherwise it'll just be a slog and I'll probably never make it to the farthest site. Which was a good choice, because this valley area on the edge of Seoul was must-visit. I'll have to revisit it a few times.
31 December 2022

Abandoned Building
Just two pictures of an abandoned building I passed on my way down south. There was a weak spot in the fence in the back, but it was across the alley from a couple other active restaurants, and I imagine it would be high-risk to try to get past their attention.
30 December 2022

Hilto Hotel
I was surprised to find out that one of my coworkers had rented a room at the Hilto on its last night open ever, at a cost far higher than I would have expected or considered paying (which she split two ways). I wormed my way in by promising to show her the penthouse, and I did not let her down.
30 December 2022

Hipjiro
I went out with some coworkers for drinks in Euljiro area. First we went to the Ggeek brewpub on Sewoon Sangga, then we walked through Euljiro Nogari Alley -- which was even more shuttered than my recent last visit -- to get to Seendosi.
30 December 2022

Hilto Hotel
On the last full day of the Millenniu Seou Hilto's opening, I paid what I thought could be my final visit. I used some tricks on the elevator to try to ride up higher so I could walk up to the top floors. Fortunately, it seemed on level 19 there was a restaurant area that people were flocking to. Once I boarded an elevator with actual guests, I followed them up, held the elevator door open for them when they got out, then slipped out to the stairs. From there it was a quick jaunt up to the penthouse, which had once housed the former Daewoo Group chairman. I took my time and got a fair number of pictures.
28 December 2022

Construction
The construction site is now getting tall enough that I can tell the building will be at least as tall as mine. This comes right after the tree that would have given privacy was removed.
27 December 2022

Order Pizza Here
Phillies was going to serve pizza for the first time, and in the alley out front of my apartment I saw this sign.
25 December 2022

Christmas Tree
I decided, with the dismembered evergreen tree on my roof, I might as well grab a branch and give myself the most pitiful Christmas tree possible (at least that's organic). It's a little over a meter tall and sheds needles whenever I touch it, but it would make Charlie Brown envious.
24 December 2022

Millennium Hilton Seoul
I paid a visit to the Millennium Hilton Seoul, which has an annual toy train display around this time of year.

The hotel is set to close down at the end of this year, with reservations not being accepted overnight from New Year's Eve to New Year's Day.
21 December 2022

Bando
This is the site of a former neighbourhood I visited a few times after abandonment. Right around here was a gate I could squeeze through. Interesting to note that the bandos are being replaced with a Bando. Also, because of the incline, the bottom of the gate couldn't be made flush to the ground, leaving room to squeeze under.
18 December 2022

Abandoned Cuck Chair
A researcher wanted to interview me about urban exploration, so I suggested we go to an abandoned hotel. I didn't take many photos, just a few, including of the abandoned cuck chair.
17 December 2022

Yunawa Aidoru
This is definitely one of the most unique acts I've seen in a while. It features Sato Yukie on guitar, as well as a pretty good singer, and also a crossdressing Jinyong from GIOK/Christfuck/Mateo/Halajae. And it was still somehow good.
17 December 2022

Earl at Phillies
Phillies invited Earl for what will likely be his last show at this location. It's possible he could still play if they move, since he's not exactly as loud as Incestrul Lust.
17 December 2022

Cats
I came home between outings, and the cats barricaded me in. Not sure if they didn't want me to leave again or if they just wanted cat food, but I fed them and they got out of my way.
17 December 2022

Closed Theater
There was a film screening at an old closed movie theater, but we had to keep a lot of details secret for fear of Christians crashing the party, since this used to be a major gay hangout.
15 December 2022

Snow
I had a look at the snow as it was coming down, coating the disassembled tree on my roof. Not exactly good feelings.
13 December 2022

Downtown
Just a couple festive photos from around downtown late at night.
11 December 2022

MA O
There are slightly less than two genders.

One bathroom for everyone.
11 December 2022

Osong Station
Since the last time I was there, Cheongju has a new KTX station...opened in 2010.

Trains go through frequently, but when I showed up, I had to wait a full hour for one headed the right direction for Seoul.
10 December 2022

Iman's League Day 3 in Cheongju
I went down to Cheongju for the first time since maybe 2005 to see a show. The venue was pretty strange, basically inside an illegally built structure on the roof of a building. It was nice being at a show not underground in a basement.
9 December 2022

Iman's League Day 2 at Phillies
This was sort of a crazy night. Right as I showed up, there were police cars in front of The Studio HBC. Apparently Ryan had told one of his employees "Change the garbage bag," and some nearby Russians thought he was calling them garbage (which is understandable considering the world today), so they jumped him. The police showed up pretty quickly and brought the conflict to an end, but it was the second-craziest night in the neighbourhood this year.

Tension was high at the Iman's League show as well.
8 December 2022

Iman's League Day 1 at Craic House
I left the zine fest to drive back to Seoul in time to see Iman's League on the first day of their latest four-day Korea tour. As mentioned in the article, this show was pretty close to the site of the Itaewon disaster. The bands were a bit subdued, playing acoustic only (with mics). More coming soon from the rest of the tour.
7 December 2022

UAC Zine Fest
I went to Songdo for a zine fest at the University of Utah campus there. It seemed simplest for me to drive up the night before and sleep nearby, so I ended up at the area overlooking the former Songdo Resort area. A little over nine years earlier, I stayed in another motel in the area, so this time I decided to try a new one, specifically the one with the Statue of Liberty on the roof.

No pictures at all from the zine fest.
6 December 2022

Orthodox Church Area
While heading to Copy Salon to print Broke 31 among other things, I stopped for a moment to survey the demolition in this area right behind the Orthodox church, in land that appears to fall almost entirely in Gongdeok-dong. There was much to explore here earlier, but it's all gone now.
3 December 2022

Phillies Fest
As Phillies is leaving its original location at the end of the year, they're putting together a fairly small festival which ran on two Saturdays early in the final month. This was the first of two Saturdays, and I showed up mainly to see the new metal band Rogue Warriors, which was said to be made up of 11 musicians taking turns performing. A member told me they wanted to increase the roster to as high as 50. It's a ridiculous idea, which is why I want to see it work.
2 December 2022

Namdaemun
Another view of Namdaemun. This one's from the alley I frequent the most, looking toward the gate, with the name of my employer in the background.